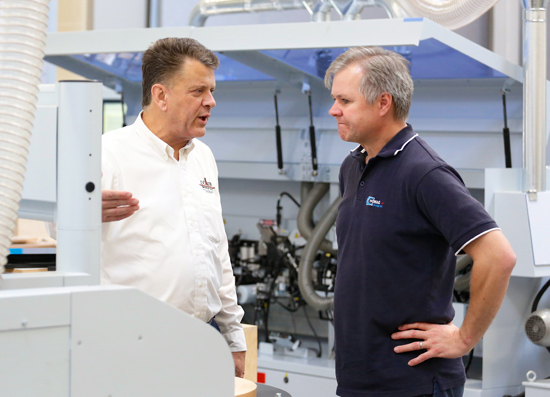 Several companies are holding their open houses this week to coincide with WMS 2015 and there is a free breakfast offer and a post WMS event as well.
Taurus Craco Machinery will once again offer up its popular 'Breakfast is on us!' event from 7:30 a.m. to 9:30 a.m., Nov. 5-7 at their Brampton offices and showroom before each show day to get you fuelled up for WMS 2015. During the last show, more than 250 customers enjoyed a great breakfast on Taurus Craco before long days at WMS.
Join Biesse Group Canada for their Toronto Fall Biesse Inside event - Nov. 5-7, Thursday - Friday from 9 a.m. to 5:30 p.m. and on Saturday from 9 a.m. to 12 p.m. - for an opportunity to test drive some of the industry's most cutting-edge machinery. You'll have the One2One experience of working directly with Biesse product specialists and industry professionals, exchanging ideas and learning about new technology, but they also want customers to get an inside look at their Mississauga showrooms, training centers, service hubs, as well as meet the staff they work with on a day-to-day basis.
HOMAG Canada will host its popular Oktoberfest and Open House & Networking Event at their offices and showroom in Mississauga, Ontario on Nov. 5-6. Come for the technology and stay for the celebrations. The events will be held Thursday & Friday from 10 a.m. to 5 p.m. and the actual Oktoberfest celebrations will take place Thursday evening from 5 to 7 p.m. Solid wood and panel processing machine demos from 11 a.m. to 2 p.m. and enjoy traditional German sausages for lunch from noon to 2 p.m.
IMA-Schelling Canada's open house will be held Nov 5-7, from 9 a.m. to 5 p.m. in Mississauga, Ontario and feature live laser edgebanding demos with the affordable IMALUX laser system designed for small to medium size shops. As part of the event they will show: High gloss cabinet doors of various colors, white-on-white high gloss cabinet doors, textured melamine cabinet doors, and there will also be demos with colored EVA glue and PUR glue.
And on Friday, Nov. 6, Richelieu Hardware is inviting its customers and suppliers back to its Mississauga Warehouse/Showroom location following WMS. The event will begin at 4 p.m. and food and beverages will be served.