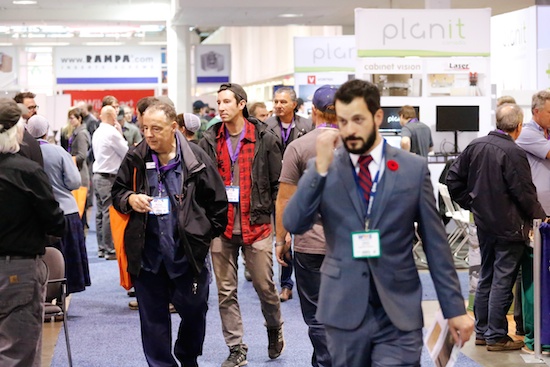 Photos: Woodworking
WMS 2015 in Toronto had more exhibitors and more attendees.
The Woodworking Machinery & Supply (WMS) Conference and Expo held in Toronto Nov. 5-7 got good reviews from exhibitors and attendees alike.
Canada's largest woodworking event was held in Halls 1 & 2 of the International Centre and, according to organizers, featured some 1,400 exhibitors representatives from more than 260 companies and businesses representing more than 50 product categories.
"The show started off well and continued strong to the last day," says WMS Conference Director Bill Esler.
"Traffic was steady all day Thursday and then peaked on Friday with heavy crowds, the aisles so thick with visitors at times that passage was challenging with close to 4,000 visitors attending over the three days of the event."
"WMS has a 30-plus year history of being the #1 event in Canada for businesses in the secondary wood market and our 2015 edition was no exception," Esler says.
"This year, we welcomed more exhibitors, more attendees, more conference and free education sessions…2015 was very well-attended, attendees were engaged, exhibitors were seeing business. We look forward to WMS 2017 at the International Centre."
Woodworking spoke to numerous exhibitors and every one of them had good things to say about this year's show."
"We were really busy for the entire show and it was a lot of fun as well," says Andreas Gombaez of Felder Group Canada.
"On Saturday for example it started right at the opening and by the time I had my first chance to take a breather, the show was over. It was really very good."
In fact several exhibitors said they were so busy, they wished they'd have had more time to spend with individual customers, but there were always more waiting for assistance.
In addition to featuring the latest in machinery, tooling, supplies and services, WMS 2015 also featured an expanded education conference.
The conference program was the largest educational program in WMS history with more than 20 sessions, which included lean and advanced manufacturing, including batch size 1 production, Industry 4.0, innovation and much, much more.
This year's WMS also featured the largest education conference in its history with more than 20 sessions. The next WMS will be held November 2-4, 2017.