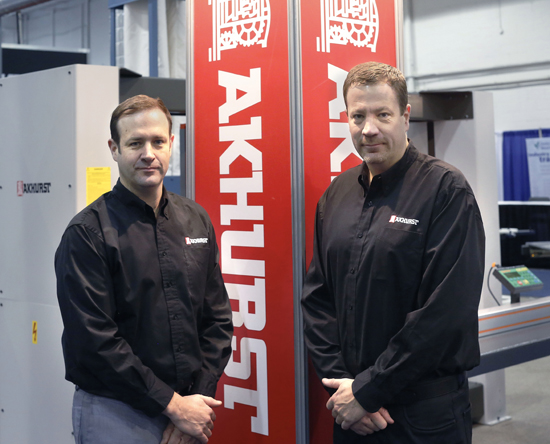 Photo: Woodworking
Ryan and Graham Akhurst.

The ownership of Akhurst Machinery has successfully transitioned to the fourth generation of the Akhurst family. Partners Graham, Ryan, & Brent Akhurst proudly take over the business from their fathers Bruce & Brian Akhurst, a company started in 1938 by their great grandfather H.W. Akhurst. The new owners have been active in the company for a number of years and look forward to continuing on the success achieved by the previous generation. The board of directors of the company includes Eric Stebner, who is the company president.
Akhurst boasts more than 65 employees throughout their five locations across Canada in Delta, B.C.; Edmonton, AB; Mississauga, ON; Longueuil, QC; and Dieppe, NB; and takes great pride in being able to provide the full spectrum of services to their customers including equipment selection, installation, operations and maintenance training, after sales parts, and technical support.
Only three per cent of family business survive into their fourth generation and Ryan Akhurst, vice president of marketing, attributes their success to three things: the hard work ethic of all family members, mutual respect of one another, and a strong desire to keep improving the business putting aside personal interests.