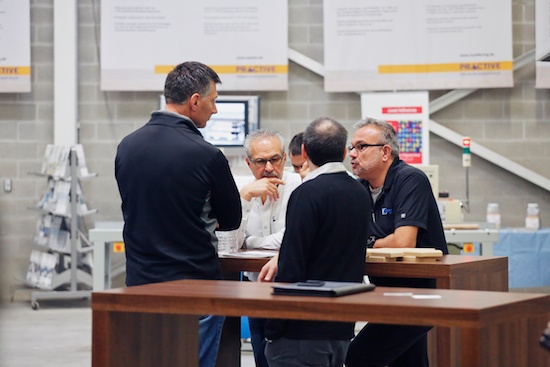 Photos: Woodworking
HOMAG Canada hosts Oktoberfest and Open House event.


HOMAG Canada hosted its popular Oktoberfest and Open House & Networking Event at their offices and showroom in Mississauga, Ontario Nov. 5-6 and General Manager Andreas Grabe said it was a very good event and they had good turnout.
"We got a nice bounce from WMS and between 20 and 30 per cent of our visitors were from outside Ontario," says Grabe. "We had customers come from as far away as B.C."
He said they had about 100 representatives from 50 individual companies over the two-day event.
"The sales guys are telling me there is some serious interest, especially on the solid wood side and panel processing. And a lot of customers are interested to find out more about our woodCAD|CAM software from HOMAG eSOLUTION.
Grabe says woodCAD|CAM has been around in Europe for a couple of years and he expects it to come to Canada in the late spring of 2016. woodCAD|CAM is used in the design of cabinets, generates parts lists, sends data to ERP systems and has numerous functions for transferring structured geometry and manufacturing data to manufacturing plants and machining centers.
"Customers want to buy it today," Grabe says, "but we still testing it and we want to be ready with support before we sell it to our customers."