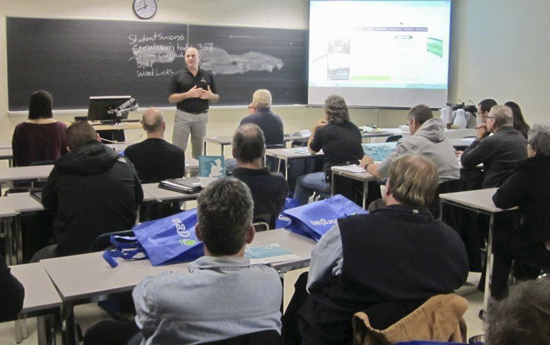 Mike Baker announces BWA funding support for high schools to offer WMC's WoodLINKS program.

The Blue Water Wood Alliance (BWA) has announced funding support for regional high schools to offer the Wood Manufacturing Council's (WMC) WoodLINKS program to their students.
The Alliance has pledged its assistance for up to 20 schools to join WoodLINKS for at least their first year of participation. BWA executive director Mike Baker made the announcement at a professional development day for high school woodworking teachers at Georgian College on Nov. 20.
"Our members recognizes the benefits of the WoodLINKS program and we are pleased to contribute to its expansion. Students who have completed WoodLINKS will have opportunities with our member firms and our companies will benefit from the skills and knowledge that WoodLINKS students gain and can bring to the workplace. We are also excited about being able to partner with the Wood Manufacturing Council to provide enhanced local support and assistance to the program and its participating schools".
"The WMC welcomes the partnership of BWA and we applaud the efforts of their organization to support secondary school education for the wood industry" said Iain Macdonald, WMC's chairman.
"WoodLINKS is the product of an industry-education partnership that has established a comprehensive curriculum and resources to support woodworking courses in Canadian high schools. The goal is to offer opportunities for students to find rewarding careers with wood companies and to provide high quality entry-level workers for sector firms. Industry experts and wood program educators from across the country provided the expertise to create this comprehensive program".
The Bluewater Wood Alliance serves the advanced wood products manufacturing industries in Southwestern Ontario. It brings like-minded companies together for the purpose of joint projects in skills development, technology transfer, export development and experience exchanges, in a bottom-up driven association.
BWA is the first woodworking cluster in Canada and its continued growth and ability to deliver results demonstrates its effectiveness both to industry and to government.
WoodLINKS is a high school curriculum that aims to develop the future generation of certified entry-level graduates for the advanced wood manufacturing industry and for related post-secondary programs. WMC serves the sector with the mandate to plan, develop and implement human resources strategies that support the long-term growth and competitiveness of Canada's advanced wood products processing sector and meet the developmental needs of its workforce. The Council identifies and examines the necessary skills and knowledge required to respond to the changing needs of the industry.