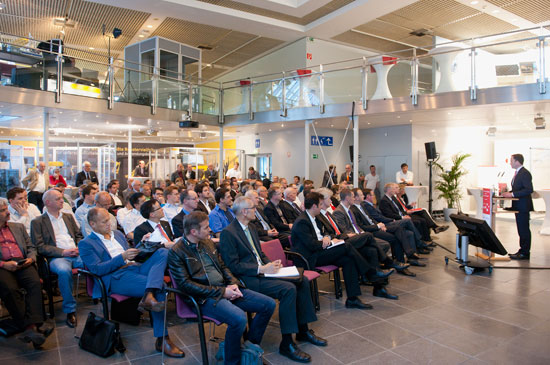 Photo: Deutsche Messe
The LIGNA Conference 2016 will offer keynotes, a variety of interesting papers and a panel discussion on the topic "Integrated production in woodworking – the way towards Industry 4.0."

Online registration is now open for the first international LIGNA Conference, which will be held at LIGNA's Hannover Exhibition Center Robotation Academy May 3-4.
The conference theme is "Integrated production in woodworking – the way towards Industry 4.0," and the event is organized by Deutsche Messe and VDMA, the German woodworking machinery manufacturers' association.
The conference is specifically aimed at decision makers from the woodworking trades and the furniture, building products, interior finishing and timber construction sectors.
Integrated production, which was the keynote theme of LIGNA's 2015 trade fair, has proven to be a major talking point among exhibitors, visitors and the media.
"An integrated approach to woodworking production opens up exciting new prospects for the sector," says Christian Pfeiffer, director of LIGNA at Deutsche Messe.
"We will demonstrate that Industry 4.0 has already moved well beyond the visionary stage."
The main content of the LIGNA Conference will be presented in keynote talks, best-practice examples, lectures and panel discussions with reference to the furniture industry, the wholesale trade, the automobile and caravan industries, information systems/IT, automation technology, mechanical engineering and science/technology.
It will feature everything from furniture-making giants to software titans and present high-caliber speakers, intriguing talks and examples of real-world progress
The two-day conference will explore the intelligent integration of production and logistics processes and the practical benefits of Industry 4.0 technologies for users of woodworking machines.
To register, go to:
www.ligna.de/en/con
Download PDF