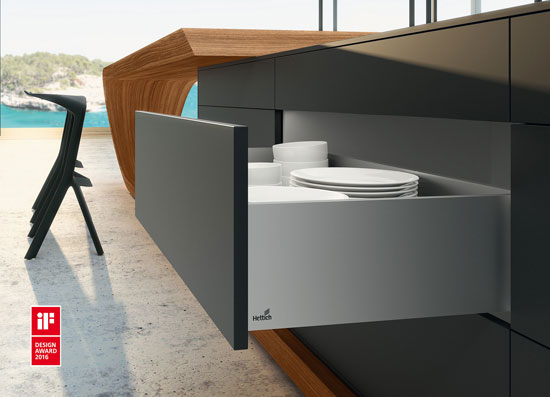 Two products from Hettich have come out on top among 5,295 entries at the iF Product Design Award 2016.
AvanTech, the drawer system for the premium segment and the Sensys, thin door hinge impressed the 58 international jury members of the iF Design Award 2016.
The AvanTech drawer system continues the most exacting design aspirations on the inside of furniture: an AvanTech drawer cuts a fine figure with perfect sleek lines, sharply rounded edges and no cover caps whatsoever on the high quality 13 mm aluminum drawer side profiles. With the Actor 5D drawer runner, AvanTech makes perfection something you can see, feel and hear.
The new Sensys 8646i thin door hinge with extremely shallow cup provides furniture makers with maximum design flexibility. It permits the use of thin core board panels in a thickness from just 8 mm with a design defining surface application layer, such as glass or concrete. Thin solid front panels made, can be now be made of solid surface materials. Thanks to Sensys, the look and feel of exclusive materials can now be combined with the purist style of slender lines and narrow reveals.
The iF Design Award has been an internationally recognized hallmark of design excellence for over 60 years and ranks among the world's most prestigious design prizes.