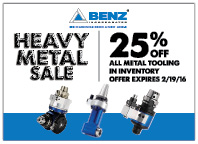 BENZ Inc., a technological leader for the production of innovative machining heads for the wood, plastics, composites and metalworking industries, has announced that it will be holding a Heavy Metal Sale to commemorate the company's upcoming expansion and relocation from Charlotte to Hickory, NC.
During the promotional period through Feb. 19, BENZ will offer 25% off select live tools, Solidifx Modular Quick Change Systems and angle heads. Following the Heavy Metal Sale, BENZ will be relocating from 8325 J Arrowridge Blvd. in Charlotte, to a new 10,0000 sq. ft. facility at 1095 6th Street Court SE, in Hickory, NC.
"Machining tools are metal, heavy and expensive to move," explained John Roasa, National Sales Manager, BENZ Inc. "The BENZ Heavy Metal Sale is intended to help us reduce our current tool inventory to make our move to our new Hickory facility easier, while also helping our customers save money on BENZ's innovative machining tools."
The move from Charlotte to Hickory will enable BENZ to expand its operations and store even more inventory for quick delivery to the US, Canada and Mexico. The company's new 10,0000 sq. ft. Hickory facility will also house an extensive service department designed for diagnostic testing on BENZ tooling.
BENZ Inc., a member of the Zimmer Group, and manufactures tooling in Germany and offers sales and support for North America through its subsidiary, BENZ Inc., from its new Hickory, NC, headquarters.