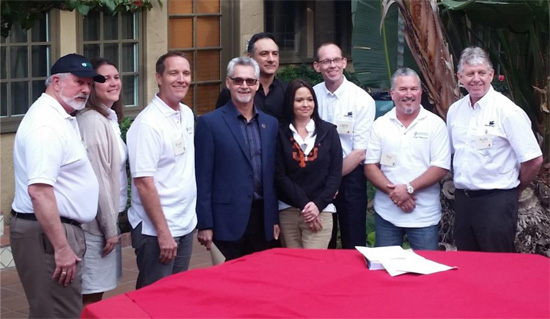 Representatives from AWMAC and WI after the two organizations signed an agreement to develop a new woodwork standard. From left, Rob Gustafson, Clare Smith, Bruce Humphrey, Scott McVittie, Carlo DeFrancesco, Heather Zertuche, Larry White, Ray Cerulli, and Rudy Bardeck.

The Architectural Woodwork Manufacturers Association of Canada and the Woodwork Institute finalized an agreement on March 3, 2016 to develop a new architectural woodwork standard for North America.
This manual will be the most comprehensive woodwork standard ever published, combining enhanced pre-existing material with additional content and illustrations that reflect the progressive nature of woodworking in North America.
AWMAC and WI are excited to commence work on this enhanced standard and have created a Standards Committee with participants from each association.
The committee consists of:
· Chair: Kerry DePape of AWMAC
· Vice Chair: Mike Hansen of WI
· Member: Martin Boutet of AWMAC
· Member: Ray Cerulli of WI
· Member: Bill Fenstermacher of WI
· Member: Jim Taylor of AWMAC
· Member: Paul Parks of WI, alternate
· Editor: Rob Gustafson
· Secretary: Heather Zertuche
All these participants have many years' experience in standards development and are committed to developing architectural woodwork standards with up-to-date materials and processes. In the near future, the standards development team plans to invite participants with a broad range of knowledge from the industry to collaborate on the standards. AWMAC and WI are committed to providing our affiliates, members, and the industry with current, complete, and inclusive architectural woodwork standards.
Stay tuned for more details…