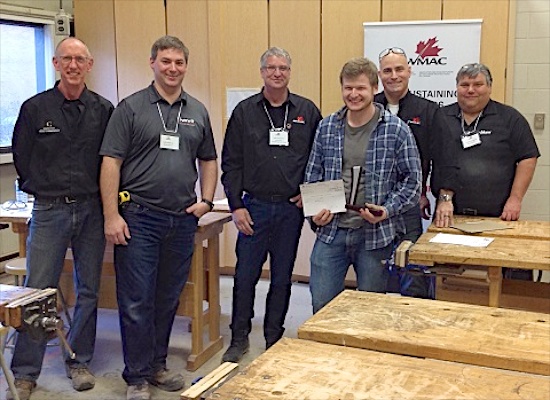 Conestoga College's Caleb Perry won AWMAC Ontario's apprenticeship contest.
Caleb Perry of Conestoga College has won AMWAC Ontario's apprenticeship contest.
Second place went to Shane Takahashi from Georgian and Nicole Oliver from Allwood Carpentry (Humber previously) came in third.
Other participants includeded Vincent Solis, SungKyong Un, Steve Heemskerk and Troy Miller.
The Architectural Woodwork Manufacturers Association of Canada's Ontario Chapter held its 2016 Apprenticeship Contest at Conestoga College in Kitchener, March 19.
The event began at 7 a.m. with the contestant's set-up, followed by orientation and safety instructions. The competition started at 8 a.m.
There were several breaks and the end time was 6 p.m.
Following judging by industry experts, the winner was announced at 6:30 p.m.
The contest is an opportunity for contestants to show off their woodworking skills and compete with their peers for cash prizes and get their name known in the industry.
The winning project from the Ontario event will automatically be sent to AWMAC's National Convention where it will be judged for a national award.
The contest is open to apprentices and or recent graduates.
Each competitor received drawings, specifications and instructions for their project 7 days in advance of the contest.