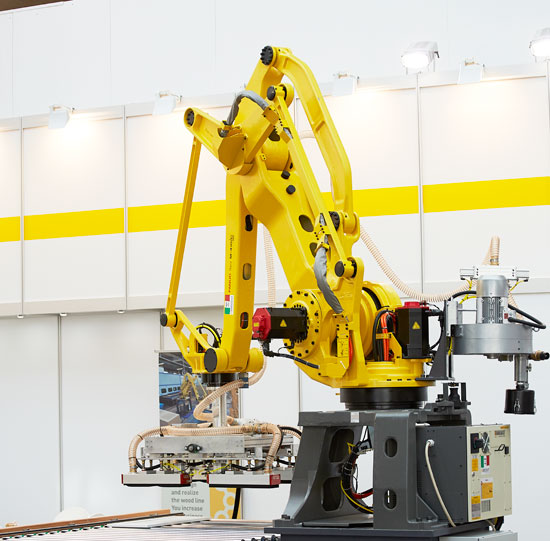 Excitement continues to build for the first ever international LIGNA Conference, which will be held at LIGNA's Hannover Exhibition Center Robotation Academy May 3-4.
The conference theme is "Integrated production in woodworking – the way towards Industry 4.0," and the event is organized by Deutsche Messe and VDMA, the German woodworking machinery manufacturers' association.
It's easy to register online and participants are signing up from far and wide, including from right here in Canada.
"An integrated approach to woodworking production opens up exciting new prospects for the sector," says Christian Pfeiffer, director of LIGNA at Deutsche Messe.
"We will demonstrate that Industry 4.0 has already moved well beyond the visionary stage."
The main content of the LIGNA Conference will be presented in keynote talks, best-practice examples, lectures and panel discussions with reference to the furniture industry, the wholesale trade, the automobile and caravan industries, information systems/IT, automation technology, mechanical engineering and science/technology.
It will feature everything from furniture-making giants to software titans and present high-caliber speakers, intriguing talks and examples of real-world progress.
The two-day conference will explore the intelligent integration of production and logistics processes and the practical benefits of Industry 4.0 technologies for users of woodworking machines.
There isn't a better place for owners of small, medium and large businesses to learn from real-life case studies just how much added value they can generate by implementing the right level of digitalization.
The conference will not only address the growing importance of new business processes, but also offer examples of how companies have embraced the Industry 4.0 initiative in Germany and successfully restructured their production processes.
Speakers and participating companies will also outline the impacts of this on key interfaces with development, production and sales.
Staged one year ahead of LIGNA 2017, this is an excellent opportunity for professionals in the woodworking trades and wood industry to explore Industry 4.0 and find out what's commercially viable, what's already technically feasible, and what is still some way off in the distant future.
Best-practice presentations will take place parallel to the conference, while experts in the various areas will offer their expertise. The conference is expected to attract many attendees from outside Germany, so simultaneous interpreters will be on hand to translate the proceedings from German into English.
Woodworking Canada is the exclusive North American media partner.