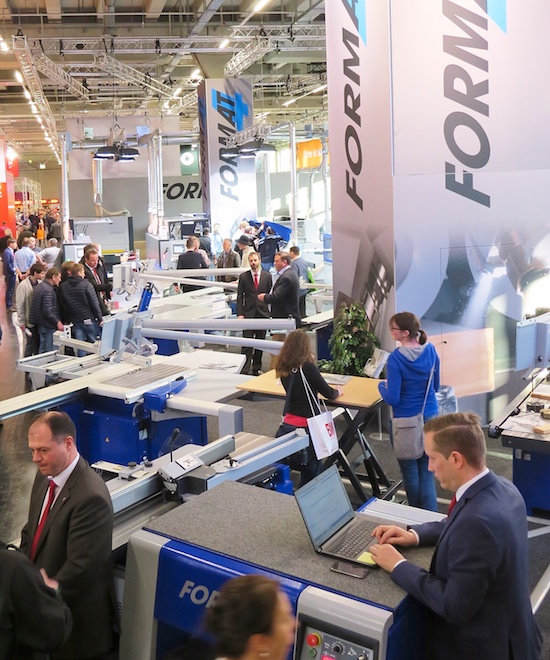 Photos: Woodworking
HOLZ-HANDWERK, FENSTERBAU FRONTALE featured nearly 1,300 exhibitors.

More than 110,000 trade visitors, a new record, attended this year's FENSTERBAU FRONTALE and HOLZ-HANDWERK, which featured 1,293 exhibitors from 39 countries.
Held March 16-19 in Nuremburg, Germany the events also set a new one day record with nearly 39,000 visiting on the second day.
Roughly two thirds of exhibitors came from outside Germany to present new developments and innovations from the wood processing industry and the fields of window, door and façade construction.
There were 796 exhibitors from 37 countries at FENSTERBAU FRONTALE, 497 exhibitors from 19 countries at HOLZ-HANDWERK, and between them they attracted 110,581 international trade visitors.
Elke Harreiß and Stefan Dittrich, exhibition directors for FENSTERBAU FRONTALE and HOLZ-HANDWERK respectively, were very pleased with their events.
"The atmosphere in the halls was excellent and exhibitors praised the international nature of attendees, their level of professionalism and their willingness to invest."
And visitors commented positively on the variety and quality of products on display." Numbers for both exhibitors and visitors who say they will to return again next time, were high as well. "We're proud of the fact that this combined trade fair event has again proved a success," Harreiß and Dittrich say.
After Germany, the countries with the largest number of exhibitors at FENSTERBAU FRONTALE were Italy, Poland and Turkey, with Austria and Italy the runners-up at HOLZ-HANDWERK. One in three of the visitors in 2016 came from outside Germany, representing international growth of more than 13 percent.
Visitors to FENSTERBAU FRONTALE comprised window and exterior contractors, cabinetmakers, architects and the retail trade, all of whom had the opportunity to learn about the latest profile systems, hardware, structural elements, the use of glass in architecture, fitting technology, safety and shade technology, as well as machinery and plant.
Meanwhile, at HOLZ-HANDWERK, cabinetmakers, joiners and carpenters, furniture makers, mechanical engineers and interior designers discussed the latest trends relating to tools, machinery, hardware, materials and software.
The next combined FENSTERBAU FRONTALE and HOLZ-HANDWERK trade fair will be held March 21-24, 2018.