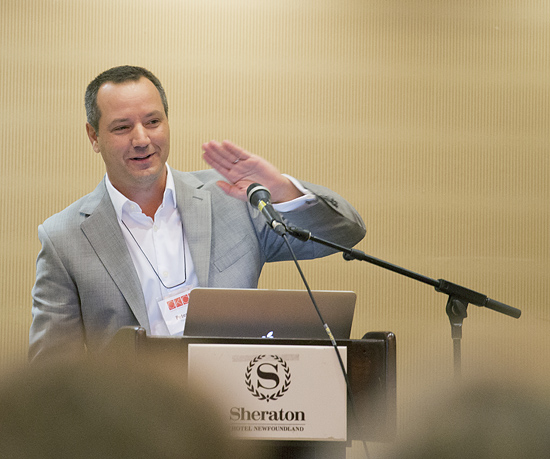 Photo: Woodworking
Peter Mate, a CKCA director and president and co-owner of Planit Canada, speaks to members at the St. Johns Regional Event.

The Canadian Kitchen Cabinet Association will hold its national meeting – The National Forum – at beautiful Whistler, B.C. this year from April 28 – May 1. The event will be held at the Westin Whistler Resort and Spa.
The National Forum will provide several days of education and networking and is the premier conference for those engaged in the kitchen industry. Conference registration includes welcome reception and dinner, all sessions, panel discussions, manufacturers roundtable, plant tours, (transportation to and from tours included), and all other meals including their 60's themed Presidents Dinner.
If you haven't booked a flight yet, there may still be time and if you are in the Whistler area, why not take a drive, even if it's just for a day, and meet CKCA members and learn what the organization is all about. Guests are always welcome and you don't have to be a member to check them out.
There are also suppliers' presentations on the latest new products and services and the educational portions of the event are sure to offer something for everyone.
Session content covers important and relevant topics and will kick off with a four-hour Leadership and Development seminar. Other session will look at technical and practical information on finishing, how to work with and find a co-op student, moving from solvent to water-based finishes – a case study, and a not to be missed presentation from Candybox Marketing addressing how to build a website, engage the digital customer and more.
Stephan Kleiser from Woodworking Canada will facilitate the Manufacturers Roundtable.
In this manufacturers-only session, CKCA manufactures have a chance to talk about things that really matter, and have an impact on your day to day business.
Take this important opportunity to connect with your fellow manufacturers and understand some of the day-to-day challenges and opportunities everyone faces. Make important connections with your counterparts across Canada and remember that these connections don't just end at the conference - they keep on going long after the event has ended.
Download PDF