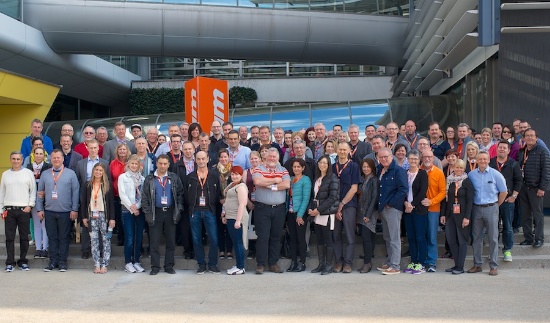 Photos: Woodworking
Canadians visiting Blum's main facility in Hoechst, Austria.

Blum Canada hosted a group of nearly 80 Canadian manufacturers organized by the CKCA and AFDICQ, and co-sponsored by Richelieu Hardware, to tour Blum's head office and factories in Hoechst and Dornbirn, Austria prior to visiting EuroCucina, the bi-annual International Kitchen Furniture Exhibition held in Milan, April 12-17.
The tour included shuttle services from Zurich, Switzerland to Blum in Austria, tours of several Blum manufacturing facilities, hotel accommodations in Austria courtesy of Blum, shuttle services throughout the trip and to EuroCucina, special events, and dinners and lunches in memorable locations.
Blum offered tour participants a chance to visit several of its manufacturing facilities and tour a number of highly automated plants, storage and fulfillment facilities. Participants also visited the company's main showroom.
There was also a visit to Blum's training facility, which is home to the company's apprenticeship program. The company offers apprentices several different career paths in highly technical fields providing an education and future employment opportunities with the company.
Another portion of the tour, courtesy of Richelieu Hardware, saw participants enjoy a visit to beautiful Lake Como, tour Camar - a world leader in the design and production of technical fittings for the furniture industry - and enjoy lunch in a traditional setting in the Lake Como area and dinner at their hotel destination in Milan, Italy.EuroCucina - the International Kitchen Furniture Exhibition - is the largest event of its kind in the world and part of the Salone del Mobile, at the Milan Fairgrounds. The show is the place to see future trends for the kitchen industry and brings many of the top Italian and foreign manufacturers together all in one place.
EuroCucina once again offered an infinite range of ideas and solutions, everything from classic kitchens to increasingly modern and bespoke kitchens, characterized by variety of lines and materials, from plastic laminates to wood, marble, metal, brick and lacquer and much, much more. And of course Milan is also one of the world's capitals for anything fashion and design and tour participants also had time to go shopping and visit the city's many great landmarks and tourist attractions.
Trends
Kevin Tratt, president and general manager of Blum Canada, says the company wanted to provide "added value to CKCA members and have customers visit Blum and see how the company manufactures, researches, tests and designs its products, and see the latest in kitchen design at the largest kitchen show in the world."
EuroCucina is considered by many as the industry's top show and Tratt says there was a return to dark, natural colours and matte finishes. Overall, a more minimalistic design dominated this year's event with darker finishes inside and out, handle-free cabinets and more vertical lines in upper cabinets.
"I've also noticed the use of more reveals or motion technology to replace handles," Tratt says, "and there was very little gloss and very little white. The live edges we saw two years ago have also disappeared and instead the trend now is to some natural, light wood as accent and the use of more metal and marble."
The sliding doors that were popular just a couple of years ago have also largely disappeared and pocket doors, slab fronts and patterned melamine are becoming more popular, says Tratt and added he also noticed more glass and ceramic fronts.
Grays and browns were the popular colours with rich-looking surfaces and light, solid wood countertops as accents.This was one of the best EuroCucina shows I have seen in quite a while, says Rick Hurst, industrial sales manager with Richelieu Hardware.
"Most notable for me from the colour side was that we saw a lot of dark interiors in cabinets, a lot of lighting strips – pot lights have all but disappeared, and pocket doors.
"Those were really popular, I would have to say that was the biggest change," Hurst says.
"We saw kitchens that had as many as 10 pocket doors and that's a significant trend."
GOLA profiles were also everywhere and Hurst says that is a trend that will continue and also pick up steam in Canada.
"It's nothing new, we have them in stock right now, but I think that is a trend that will be very popular here in Canada as well."
He also saw a lot of what he calls mixed media, everything from solid wood, to stone, natural veneer and metal, a lot of mixing materials and all in the same kitchen.
"Moving counters and countertops where also very popular."
Please watch for a detailed trend report from EuroCucina in our May-June edition and online.