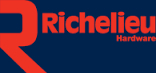 Richelieu Hardware will host its popular Trends Show from 9 a.m. to 5 p.m. on June 2, at their new offices and showroom at 6425 Airport Rd, Mississauga.
"Richelieu is pleased to announce that we will host this event in our new, much larger faciliity," says Rick Hurst, industrial sales manager with Richelieu Hardware.
"We have nearly doubled the size of our facility from 63,000 sq.ft. to 103,000 sq.ft. and our showroom now offers 6,000 sq.ft. of display space compared to the previous 3,000 sq.ft.
"And we are hard at work getting everything ready for the Trende Event where we will feature 43 international vendors."
Hurst says last year's event attracted 450 visitors and they aim to up that number to around 600 at this year's bigger and better event.
"In additon to the larger showroom, we will also have a 5,000 sq.ft. tent to add to the available display area."
The Trends Show is an opportunity to see the latest trends and products and take advantage of some hands-on training, on-site promotions and perhaps get lucky and win one of many prizes and giveaways.
Richelieu's regional customers and the design and architectural communities are invited to the special event to discover new innovative products from North America, Europe and around the world.
And there will be guest speakers and seminars discussing a wide range of topics; refreshments and food will be served throughout the day.
For more information about the Trends Event or to sign up for a seminar, just click the link, download the PDF and follow the links.
Download PDF