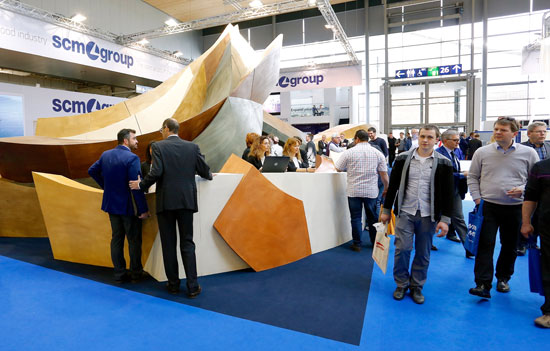 Photos: Woodworking
SCM Group reports strong growth in 2015.
SCM Group has reported total revenues for 2015 in excess of 500 million Euro (about $715 million), with the woodworking division recording "an extraordinary performance, with sales topping 380 million Euro (about $540 million)."
SCM Group held a press conference during this spring's Holz-Handwerk trade fair in Nuremberg, Germany. Andrea Aureli, SCM Group chief executive officer, underscored the outstanding 2015 results, achieved thanks to the unique values that helped make SCM a world leader.
SCM Group is a leading producer of advanced technology solutions for the woodworking industry. The Group, headquartered in Rimini, Italy, includes 20 overseas branches, three main production centres in Italy with total area of 600,000 square meters, and more than 3,000 employees, 1,000 assistance technicians and in excess of 350 distributors and agents operating in 120 countries.
"We are extremely pleased with the 2015 results. We closed the year with more than 500 million Euro in sales, a 10% growth compared to 2014, and with 56 million of gross operating margin, a net profit of 17 million and debt down to zero," says Aureli.
"We've also recorded significant achievements in overseas markets, which account for 90% of our business. We opened three new branches in Dubai, Kuala Lumpur and the U.S. West Coast, expanding our already widespread international network."
The second to take the stage at Holz-Handwerk was Luigi De Vito, director of SCM Group Woodworking Machinery Division, who presented the outstanding results of the Woodworking Division.
"With our Woodworking Machinery Division - whose offering addresses the entire secondary wood processing sector, with a market value estimated at 3,300 million Euro – we have reached a turnover exceeding 380 million Euro, a brilliant result which places us as the second player in the sector," says De Vito. The Division's turnover has increased by 23% compared to 2014, with more than 17,000 machines sold.
The top performers are without question the machining centres and edgebanders, achieving a combined total of more than 30% in total order growth.