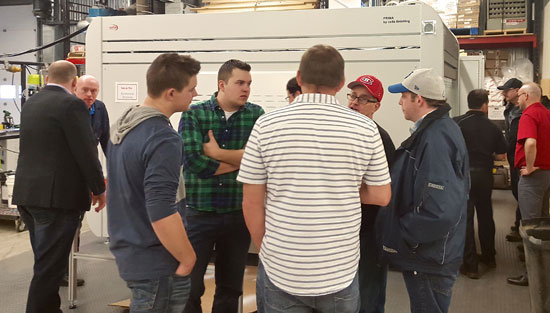 Dozens of companies attended the i-Learn event.
Photos: Contributed
In April, CNC Automation partnered with Cefla to bring their annual i-Learn information seminar to Canada for the first time. Cefla Finishing systems have for many years run this educational event at their North Carolina headquarters.
Small- and medium-sized companies intent on increasing productivity, reducing waste and improving surface finishing quality and consistency, were able to meet with experts and discuss those issues at the event held during an open house at CNC Automation's state-of-the-art facility in St. Zotique, Que.
This event provided the perfect opportunity for all attendees to discuss and resolve their finishing challenges.
The I-Learn event showcased a broad range of technologies available to reduce costs and achieve a better finish.
In addition to other leading-edge advances, participants had an opportunity to participate in demonstrations of the Prima by Cefla Finishing, a machine designed to make switching from manual to automatic spraying of any water- or solvent-based coating easier than ever. Prima is the first automatic sprayer to more economically spray coating over a working width of 1300 mm.
In addition to the CNC Automation event, Cefla is keeping its commitment to customers for many more special events planned for this year.