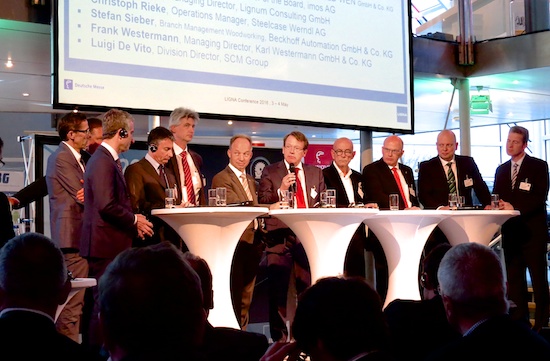 Photos: Woodworking
Day 2 featured a panel discussion of industry experts including machinery manufacturers.

Industry 4.0, or the complex issue of integrated manufacturing as it is more commonly referred to in North America, was the subject of the first LIGNA Conference held in Hannover, Germany on May 3-4. Specifically, the program was designed to discuss the progress the furniture industry is making.
The sold-out event featured a who-is-who in an industry line-up of speakers from various different sectors sharing their knowledge, experience and progress on their way to achieving higher levels of integration in their manufacturing businesses.
Efficiency is the goal, and it is an evolution not a revolution, the experts agree. One step at a time, but speed is of the essence in this competitive world.
In total 13 presenters took to the stage.
From IKEA to Volkswagen, Lignum to Steelcase and Jeld-Wen, to name just a few of the presenting companies, there seems to be agreement on a number of key points. Whether you sell cars, furniture or doors; whether you are a small to medium-size manufacturer or a multi-national, in order to stay ahead of the competition you must embrace technology and determine a holistic approach to integrating technology into your entire business.
Starting with the relationship with customers, your products, internal systems, suppliers, production and of course your staff.
The second day concluded with a panel discussion of industry experts including woodworking machinery manufacturers discussing the opportunities, applications and challenges in the wood products industry.
Throughout the two-day event, manufacturers and suppliers were available for personal meetings and discussions.
Look for a more detailed report in the May/June issue of Woodworking Magazine.