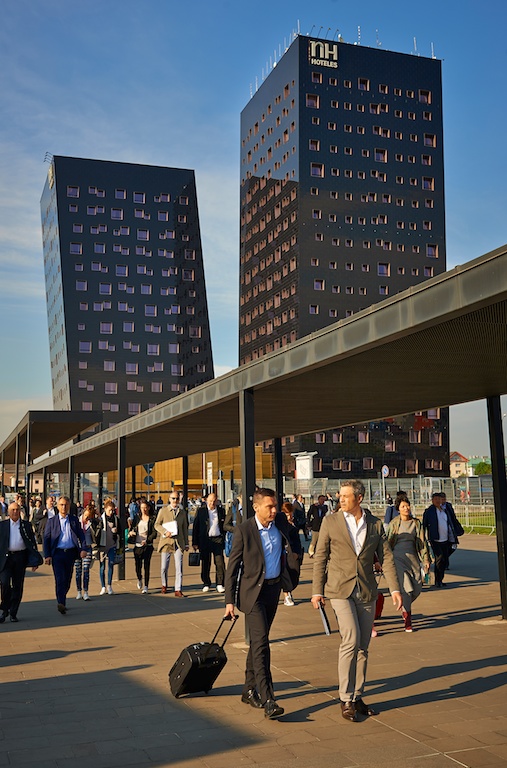 Photos: Woodworking
EuroCucina was about dark, natural finishes and mix and match materials.
EuroCucina is the largest international Kitchen and Furniture exhibition event in the world. It is part of Salone del Mobile, which covers 270,000 square meters at the Milan Fairgrounds in Rho.
With an unprecedented 372,151 total attendees, this is the 'must-see' event for industry insiders and anyone who wants to find out about trends for kitchens and interior living spaces in general.
And once again, EuroCucina did not disappoint offering up an infinite range of designs, ideas and solutions. More than 300 exhibitors in EuroCucina alone presented their latest kitchen designs; everything from classic kitchens to modern and bespoke kitchens, using a selection of materials ranging from wood and laminates to stone, metal and even leather.
The glossy white kitchens and glossy finishes in general – so popular just a few years ago – have largely disappeared, replaced with dark, natural colours and matte finishes. Surfaces were no longer smooth but structured and ribbed. Interiors have also gone dark and between the many shades of dusty grays and brown earth tones, whites were limited mostly as an accent, along with natural wood and stone accents used in countertops.
There were very few handles and instead reveals and motion technology.
To put it simply, EuroCucina was about dark, natural finishes and mix and match materials.
Also popular were moveable countertops, retracting as well as telescoping and lighting was used everywhere, both functionally for interiors, but also as accents on tops and bottoms of cabinets. Equally as popular were oversized drawers and doors, especially pocket doors, and open shelves and glass also played a big role.
Overall, a more minimalistic design dominated this year's event with darker finishes inside and out, handle-free cabinets and more vertical lines in upper cabinets.
"I've really noticed the use of more reveals or motion technology to replace handles," says Kevin Tratt, president and general manager of Blum Canada.
"And there was very little gloss and very little white. The live edges we saw two years ago have also disappeared and instead the trend now is to some natural, light wood as accent and the use of more metal and marble."
The sliding doors that were popular just a couple of years ago have largely disappeared and pocket doors, slab fronts and patterned melamine are becoming more popular, says Tratt and added he also noticed more glass and ceramic fronts.
Grays and browns were the popular colours, with rich-looking surfaces and light, solid wood countertops as accents.
A Blum Canada EuroCucina show report identified a lot of interior lighting used for drawers and cabinets as well as exterior lighting on back splashes and toe kicks.
Wide drawers and doors up to 8' wide were featured in most of the high-end manufacture displays. As well, there were the aforementioned dark interior cabinets, both upper and base cabinets.
This was one of the best EuroCucina shows I have seen in quite a while, says Rick Hurst, industrial sales manager with Richelieu Hardware.
"Most notable for me from the colour side was that we saw a lot of dark interiors in cabinets, a lot of lighting strips – pot lights have all but disappeared, and pocket doors.
"Those were really popular, I would have to say that was the biggest change," Hurst says.
"We saw kitchens that had as many as 10 pocket doors and that's a significant trend."
GOLA profiles were also everywhere and Hurst says that is a trend that will continue and also pick up steam in Canada.
"It's nothing new, we have them in stock right now, but I think that is a trend that will be very popular here in Canada as well."
He also saw a lot of what he calls mixed media, everything from solid wood, to stone, natural veneer and metal, a lot of mixing materials and all in the same kitchen.
"Moving counters and countertops where also very popular."
Nadja Mann, president of GRASS Canada says the trends the company observed at EuroCucina in Milan have already begun making their way into the Canadian market.
Oversized drawers and doors, a lot of glass for transparency and open designs along with natural warm colours combined with gold, copper and stainless steel – that in essence is the look of tomorrow's kitchen, according to GRASS Canada.
Perhaps not all of it and not exclusively, but those trends are already being felt at home.
Mann also reports that the use of structured materials and graphic patters for more individualization is on the rise.
In their official reports, both GRASS and Richelieu agree that the kitchen is merging with the living area, they are becoming one. Perhaps not a new development, but one that is continuing to gather steam with colours and materials of kitchen furniture and cabinetry matching that found in living spaces.
Cooking areas are either prominently displayed or concealed, according to GRASS' EuroCucina report. And the use of many different surfaces and material combinations are a great way for customers to create the kitchen of their dreams and express their individuality.
"No more handles," says Claude De Lanauze, national product manager for Hettich Canada. "Many drawers are using push to open or reveals. I also saw a lot of aluminum-frame cabinets and large glass doors were very popular. Many cabinets were designed to look like old pharmaceutical cabinets with large doors."
He agrees that the glossy white from a few years ago has been replaced with matte finishes in gray and brown tones.
"And a lot of cabinet sides were matching the countertops and those countertops where either really thin, from 5 to 10 mm, or really thick," De Lanauze says.
"I already saw a lot of these new matte finishes and grays at KBIS, and that along with the glass cabinet doors, either clear or smoked, will definitely be a trend we will see more of in Canada."
Matteo Fregosi, general manager of Salice North America, says the trends at EuroCucina are changing the status quo of the kitchen/living room division.
It's almost as if the living room is "invading" the kitchen helping to create a flawless transition within the house. People spend more time in the kitchen than any other room of the house, and we invest a lot of "furniture dollars in the living area, so why not enjoy both at the same time?"
Fregosi says that's why exhibitors showed a lot more glass, sharp and stylish, design-driven aluminum frames and very little exposed hardware. He added that Salice's revolutionary Air hinge, which completely disappears in the case, got a lot of use.
"We also saw more use of coplanar sliding doors in lieu of traditional pantry doors and definitely a huge turn towards pocket doors used in kitchen to hide pantries, appliances and to create a unique design with recessed handles and push to open hardware."