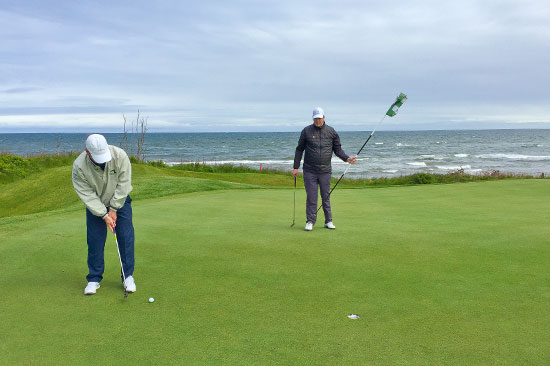 Photos: Woodworking
Braving high winds at Crowbush.

Millworkers and industry suppliers flocked to beautiful Charlottetown, PEI to attend AWMAC's 2016 National AGM and Convention from June 16–19.
Charlottetown proved an excellent venue for business meetings and networking among industry professionals and suppliers from across Canada. The beauty of the island and the hospitality of its people charmed delegates and their guests. The event featured a well-attended golf tournament on the famous Crowbush golf course where players were challenged by frigid temperatures and high winds off the Atlantic, but it was a great outing nonetheless.
The four-day convention included numerous business meetings and a rich social program including an Anne of Green Gables tour, the popular partners showcase, the AGM, President's Ball, Rise and Climb, a culinary arts event, GPS quest, Heritage Walk, Town Hall planning session and a Lobster Bake at Crowbush Beach as well as the always popular hospitality suite to end the evening.
Scott McVittie, AWMAC's past president, was awarded the prestigious AWMAC 2016 Outstanding Achievement Award.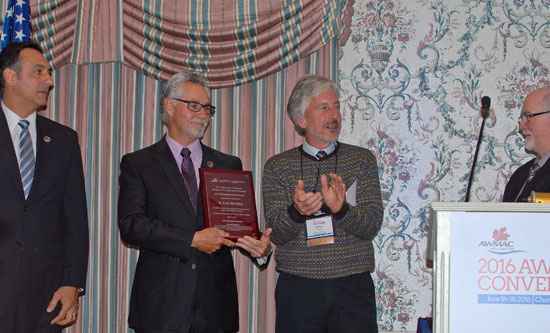 Scott McVittie, second from left, receives AWMAC's Outstanding Achievement Award.
Look for a more detailed report from the convention in the upcoming July/August issue of Woodworking magazine and of course online at woodworkingcanada.com.

SAVE THE DATE: The 2017 AWMAC Convention and AGM will be held in Winnipeg, Man, June 1-3, 2017.