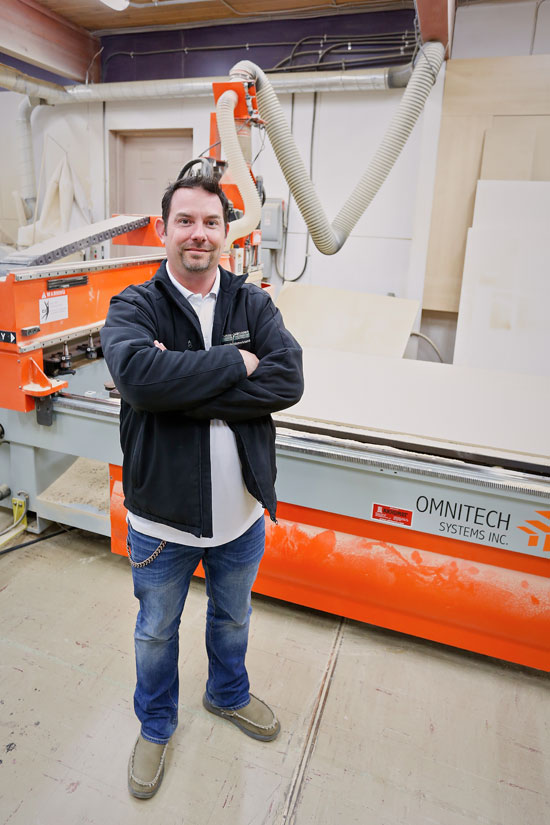 Photo: Woodworking
Trevor Chaulk

Trevor Chaulk gets bored easily and that's one of the reasons he's succeeded — against great odds — to build a successful company. The others include the fact that he loves what he is doing, that he is good at it and that he does not take no for an answer. And there were many nos. From the banks, from some friends and acquaintances. But most importantly, there were also a lot of yeses. Chief among them was Chaulk himself, who always said yes to new challenges. As a result, Chaulk Woodworking, which is still growing by 20-30 per cent every year, stands to have sales of about $1.4 million this year. Not bad for a guy who started making log furniture just a few years ago because he was bored.

Chaulk was born and raised in Toronto where he attended school and finished his education as a tool and die maker. He worked in that field for 10 years and then took a year off when his son was born. It just so happened that he spent much of that time in Haliburton County, near Minden and promptly fell in love with the area.
"I just liked it a lot up here," he says of the area a couple of hours north of Toronto.

Best known as a tourist and cottage area because of its beautiful scenery with many rivers and hundreds of lakes, Haliburton County was a place Chaulk wanted to call home. But before that idea even took roots, he started making the aforementioned log furniture because he needed something to do with all that free time.He is the first to admit that he had no idea what he was doing, but he enjoyed it nevertheless and he liked figuring things out. So guess what he said when a friend asked him if he could build him a kitchen? "Yes," of course, and that's how it started.

Chaulk says he had no idea how to build a kitchen, but he went to Canadian Tire and bought a small table and mitre saw and some other tools and got started. "I bought the doors, but I built the cabinets myself and I ironed on the edges." All of this was happening in a tiny, 14x16 sq. ft. workshop, later he moved to a 16x35 sq. ft. space.

Next, it was a set of stairs for another friend. Again, no problem. Chaulk says his training as a tool and die maker really helps him to figure things out and he enjoys the process. He is forever looking for new and better ways and even today, he uses his training to maintain, repair and modify his own machines. "It's really great when you can sharpen your own tools," he says. "It saves time and money and I enjoy doing it." Of course he will still have his CNC serviced by his supplier, but he certainly enjoys taking care of the little things himself.

Once the decision was made to quit his previous job and commit to woodworking full time, Chaulk and his wife Angela founded Chaulk Woodworking in 2009. Eventually they moved the business to a 3,000 sq. ft. shop in downtown Minden and the company continued to grow. "We didn't have a showroom and all my tools fit in one corner of the shop, and the business just grew through word of mouth," Chaulk says with a smile. "We didn't make any money in the first year, but it was obvious there was a market here for us. And I really liked the work, so we kept going. "Some of the earlier challenges, no showroom and a lack of trust because the business was so new, were overcome in time and Chaulk continued to invest in the business which continued to show impressive growth every year.

In the first couple of years he added a used table saw, a shaper and a semi-automatic edgebander. By now there were three employees and although they kept getting more work, money went out the door just as quickly and Chaulk says he was still broke. In the third year, he decided to invest in a spray booth and hired the sprayer that used to do the work for him with his subcontractor. By 2013, the company was really getting some serious traction. Business was booming, the important processes were all being done in-house giving them more control, and Chaulk says he felt as though he had finally turned the corner. And then in April, the Minden Hills flood of 2013 left parts of Minden underwater and the township in a state of emergency for three long weeks. "It was a complete disaster," Chaulk recalls. "We had two kitchens ready for delivery, but we lost them, nothing we could do."

They did manage to save most of their machinery, they put everything on blocks, but even so, the flood exceeded forecasts and the water was much higher than anticipated. "We also had 12 orders on the books, but after the flood we had no shop and nowhere to build anything. Chaulk says insurance covered a lot of things, but they didn't have loss-of-income insurance, which meant that unless they started production up elsewhere and fast, they would be in big trouble. The banks still wouldn't touch him, especially now, so Chaulk got a loan from a friend to purchase a property, complete with a 5,000 sq. ft. shop plus an additional 4,000 sq. ft. building right on Highway 35, just outside Minden.

In hindsight, he says, it proved to be a blessing in disguise because if they hadn't been forced into — what at the time was certainly a scary proposition — they may still be in the smaller, downtown facility. "This is so much better for us," he says. We have much more room, we have added a showroom and we have lots of room for future growth and a second building, which will soon house our new countertop business." And the location along Highway 35 offers them high visibility, easy access for customers and a place where they can stay for years to come. Last but not least, mortgage payments are also lower than the rent they used to pay downtown. Win, win.
"We spent another $35,000 to get the place ready, but we were up and running pretty quickly and of the 12 orders I had, I only had to refund one of them. Everyone else understood our situation and said they would wait, something I am truly grateful for."

And even though the flood left them almost ½ million dollars in debt, Chaulk isn't dwelling on the past. He now thinks of it as their chance at a new start, an opportunity to start over and build an even better company.
His wife Angela, who has been fairly quiet up to this point, says she has all the confidence in the world in Trevor.
"We've been though some pretty rough stuff, scary actually, but I have full confidence in him," she says with a smile. "He will always find a way and he is never satisfied. If I think things are going well, Trevor thinks it's too easy and gets bored and then he has to start working on something else. "But it's really great, just sometimes with all the work, we miss him a bit as a husband and as a father."

So, once they were up and running again, the first thing he did was re-design the entire line of cabinetry they manufacture and then added an Omnitech CNC machine and a Cantek edgebander from Akhurst.
"I have also been able to hire some of the best people around and we have a really good crew here. They are great people and everyone gets along and most people are cross-trained so they can work where they are needed most at any given time," Chaulk says. "We're like a large family really, there is respect here and it works both ways. To me a positive environment in the shop is the most important thing. "I have to say, despite the setbacks, it has exceeded all of my expectations, and I never thought it would be like this, it's really great."
"And in a local economy that is dominated by tourism - with the areas populations swelling dramatically during he summer months – employment is often a seasonal affair as it primarily caters to the needs of this seasonal cottage country population, including residential construction, resorts, services and retail. However, Chaulk Woodworking has been able to buck that trend and Chaulk says he's managed to keep everybody busy. That's helped too by the fact that he is also manufacturing wood-components for other companies and with the new countertop business about to come on line it will further bolster their diversification.

And as if that is not enough, later this summer, they are also opening a brand new Design Studio and showroom in Haliburton. Since the vast majority of their business has always come from word of mouth and referrals, Chaulk says this will be perfect to expand their business further. Chaulk has also recently been invited to serve as a board member of the local chamber of commerce and he is working with the local development board, which looks after strategic planning for the area. And the company is also giving back to the local community in numerous ways, including donating kitchens and supporting the food bank. "We want to be part of this community, so we do what we can to help out," Chaulk says.

Chaulk Woodworking has also recently joined the Canadian Kitchen Cabinet Association. "I got in touch with them at WMS in Toronto last year," Chaulk says. "I think if you are in this business, the CKCA is a great way to market your business and build trust with your customers. "As soon as they reintroduce their new Certification Program, we will sign up and use that as a marketing tool for our products. I think that is a great service and it gives our customers some added insurance, it builds trust," he says. "And the networking and learning opportunities they provide are amazing.
Continued growth
"Our goal is to become the leading supplier of kitchen and bath cabinetry and accessories in the area," Chaulk says. "We work hard to provide dependable, friendly and prompt products and services that our customers can depend on. "We produce only the highest quality products at competitive rates thus ensuring the longevity of our company through repeat and referral business. "And we hold ourselves to the highest standards of excellence throughout our process."

Chaulk Woodworking is equipped to take on all types of home renovation jobs including custom kitchen cabinetry manufacturing, remodeling and installations; bathroom renovation designs and bathroom vanities manufacturing and installations; wood component manufacturing with their new CNC machine to provide wood cutting services, and their newest addition stone kitchen countertops, which include quartz countertops and granite countertops.