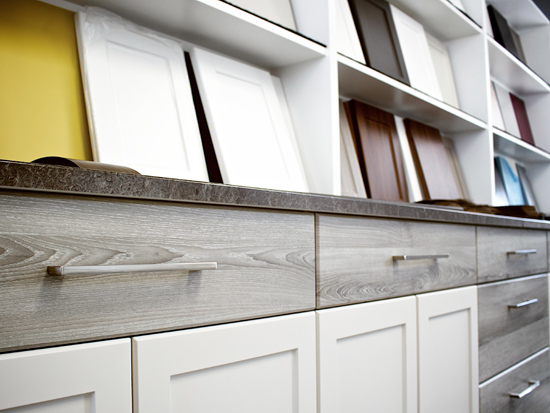 Photos: Contributed
Elias Woodwork & Manufacturing just announced an expansion of its manufacturing facilities.

Elias Woodwork & Manufacturing of Winkler, Man. has announced another expansion of its manufacturing facilities.
In the company's continuing efforts to meet customer demand and keep up with industry trends, additional space had to be created for its rigid thermofoil, laminate and acrylic products.
"In our ongoing search to help the independent cabinet makers across North America be the industry leaders in design, function, and ultimately profitability," says Ralph Fehr, operations manager, "it became apparent that with the advent of a myriad of new technically and texturally advanced rigid thermofoils (RTF), high pressure laminates, decorative laminate veneers (DLV), and high gloss acrylics, the cabinet door that used to be relegated to the low value cabinet renovation and construction segment, now has the potential to become a real upscale design leader.
"For this reason, we felt it was imperative that we invest in improved technology, space, and expertise and reinforce our position in this arena."
A "Smart Pod" press with automated unloading, five CNC routers, laser edgebanding equipment, and various ancillary equipment has now been added, along with another 30,000 square feet and about 20 employees, to enhance these product offerings, Fehr says.
"Knowing that many of these doors styles, colors, and coatings are going into new upscale homes, attention to detail and quality not normally associated with RTF, DLV, and flat edgebanded doors will now be 'standard equipment'… a given, if you will. People will be very happy with our catalog of products in this field."
Since our beginnings in 1983, Elias Woodwork has taken advantage of being located in the geographical center of North America, shipping product from one end to the other for customers from a wide range of industries. Utilizing lean manufacturing has allowed Elias Woodwork to continue to grow and remain competitive for our customers while providing quality custom products. Since 2011, the company has more than doubled its production facilities to total more than 285,000 sq. ft., including approximately 23,000 sq. ft. dedicated to wood finishing using state of the art equipment and high quality finishing materials. The new space added for other material products will provide them with the ability to further meet customers needs.