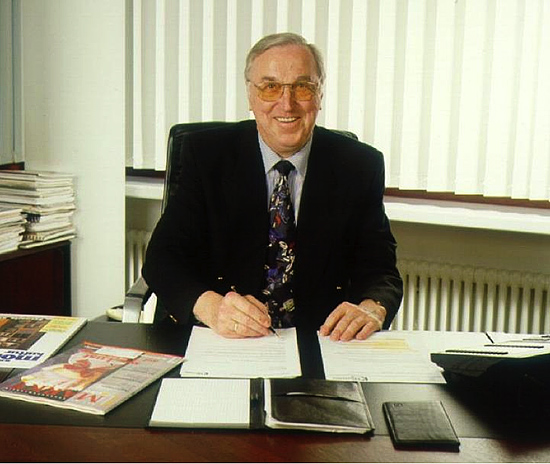 Gerhard Schuler


SCHULER Consulting GmbH, a leading management consultancy for the international woodworking and furniture industry - founded in 1956 by Gerhard Schuler as an office specializing in streamlining, organizing and planning business operations – is celebrating its 60
th
anniversary.
When founding his company, Schuler, an experienced industry expert and visionary, intended to concentrate his expertise, ideas and solutions not only on a single company, but had in mind to offer the benefits from his advisory activities to the whole woodworking sector and provide its customers real competitive advantages.
It all started in 1956 when Schuler rationalized a bedroom furniture factory and was instantly very successful. After this job, whenever anyone wanted to optimize their company, the name Schuler was immediately mentioned. The demand was so great that Schuler founded the "Ingenieurbüro Gerhard SCHULER" (Gerhard Schuler Engineering Firm) in 1956. His main objective was to provide consultancy services for the timber and furniture industry.
In the beginning, the clients were mainly regional companies. However, the client base expanded quickly: first to the bordering states, the Westphalian center of the furniture industry and then to Austria. Over the years the company blossomed, new markets were conquered, and more and more employees were hired. In addition to the company headquarters, still existing today, various branch offices were opened in the most important markets over the years with the number of clients growing continuously. The branch offices, which also still exist today, were set up in East Westphalia (Germany), Switzerland, Spain, North America, Brazil, China, Malaysia and India.
In 2010, the software spin-off from SCHULER took place and HOMAG eSOLUTION GmbH was born as a member of the HOMAG Group.
Since then, the company has operated purely as a consultancy under the name of SCHULER Consulting GmbH with a continued focus on the traditional fields, such as strategic production development, re-planning, new planning and expansion planning, process optimization and workplace design, following the principles of lean production, controlling and product design.
Over the years, SCHULER has completed consulting projects for more than 2,000 clients in more than 60 countries.
SCHULER is part of the HOMAG Group, which is part of the Dürr Group.