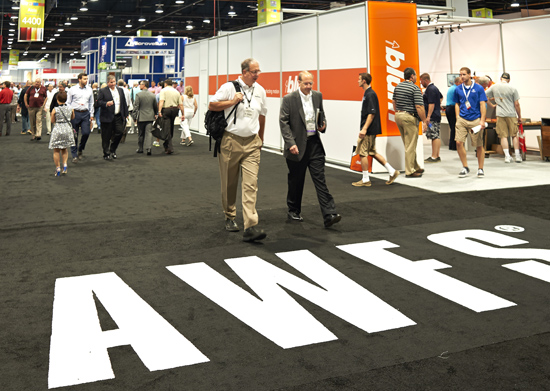 Photo: Woodworking
At AWFS Fair in Las Vegas.

The Association of Woodworking & Furnishings Suppliers (AWFS) announces the opening of attendee registration for the upcoming AWFS Fair, which will take place July 19-22, 2017 at the Las Vegas Convention Center.
Along with registering for the show, exhibitors and attendees are also able to reserve hotel rooms at special discounted rates at www.awfsfair.org.
According to Rob Howell, sales manager for SCM Group North America and 2017 AWFS Fair chair, "The 2017 Fair will include an expanded trade show floor, which is already close to 80 per cent sold (as of Sept. 1st).
"As exhibitors, we are excited about the upcoming show and that is very apparent by the response the association has received from repeat exhibitors, exhibitors new to the show and many that are returning to the show after sitting several out," Howell says.
"It's a strong market right now and people do not want to miss out on new opportunities."
In addition to offering buyers the opportunity to view the latest machinery and woodworking supplies, AWFSFair will, once again, feature its comprehensive educational program, College of Woodworking Knowledge (CWWK), which will address topics designed to meet the current and future needs of industry professionals, in addition to introducing several new show features that will be announced in the coming months. A comprehensive list and description of seminars will be available in the first quarter of 2017, when CWWK registration is projected to open.