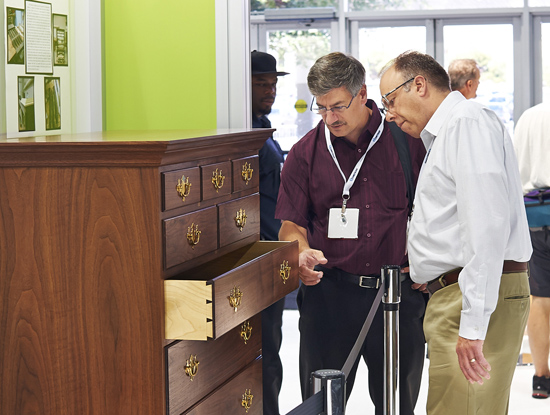 Photo: Woodworking
Canadian students have been doing exceptionally well at AWFS Fair's student competition.

AWFS Fair is looking for entries for its Fresh Wood student woodworking competition.
The competition, which will be showcased at the 2017 AWFS Fair, July 19-22, in Las Vegas, is open to high school and post-secondary students in accredited woodworking or related programs. Entry applications will be accepted until May 1, 2017.
Also, AWFS will continue the special theme category for the competition.
The 2017 special theme category topic will be "lighting".
"It will offer students the chance to do something really unique and spectacular, and will hopefully encourage them to take a step outside of their comfort zone", says AWFS Assistant Education Director Adria Torrez.
"We cannot wait to see what the students enter into this year's special theme category!"
Any type of lamp, task light, accent light, hanging light, or outdoor light will be accepted. Projects in this category must be
at least 50% wood or wood composite and need to plug into a standard 100/120-volt North American electrical outlet.
Five other entry categories round out the Fresh Wood competition: Case Goods, Seating, Tables, Design for Production, and Open. Entries will be rated by a panel of judges that represent different aspects of the industry.
The Fresh Wood competition will once again be hosted alongside the American Association of Woodturner's Turning to the Future competition, showcasing turned student work.
Zachery Lush, a student at Fletcher's Meadow Secondary School, Brampton, Ont, won The Best of Show Award, in the 2015 AWFS Fresh Wood Competition with several other students from that school also winning categories.
Online registration
The entry process for the 2017 Fresh Wood competition is now completely online. Students can go to https://freshwood17.artcall.org/ to create a user login, upload images, and submit all entry information. "This will make it easier for students to enter the contest and hopefully increase the number of applicants, raising the bar on an already prestigious national competition" says Torrez.