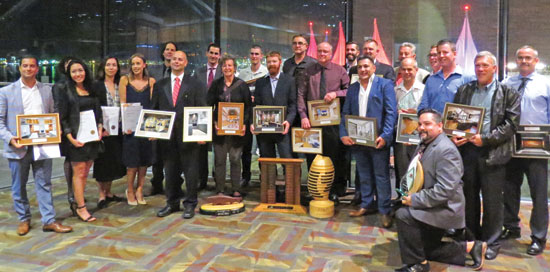 Photo: Woodworking
AWMAC B.C. recently celebrated its 26th Annual Awards of Excellence.

The B.C. Chapter of the Architectural Woodwork Manufacturers Association of Canada held its 26th Annual Awards of Excellence in high style at the spectacular Vancouver Convention Centre on Sept. 15.
Several hundred members, friends and families, architects, designers and contractors took part in the popular event, which honoured some of the best in the industry.
Several awards were presented for export projects, residential projects, design, safety innovation, design in architectural woodwork, overall quality and service, as well as a joinery student award, apprenticeship award and sales representative and supplier of the year awards.
Commercial Large
Ed Fielder
Gold: Wanes Custom
Woodworks, ACL Services
Quality
Gold: Ace Architectural
Millwork, Christian Dior couture; Silver: CWC Architectural Millwork,
Interfor Metro Tower II
Service
Gold: Wanes Custom
Woodworks, ACL Services;
Silver: Nikolai Manufacturing,
Vancouver Mining Company
Commercial Small
Ed Russell
Gold: Island Precision
Manufacturing, Urban Smiles
Dental Office
Quality
Gold: Island Precision
Manufacturing, Urban Smiles
Dental Office; Silver: Ebony Architectural Woodwork,
Frankie's Italian Kitchen & Bar
Service
Gold: Island Precision
Manufacturing, Urban Smiles Dental Office;
Silver: Beckville
Woodcrafts, Blue Shore
Financial: Edgemont Villiage
Export
Service
Gold: Nikolai Manufacturing,
Seattle On Line Retailer
Private Residence
Overall
Gold: Beckville Woodcrafts,
Private Residence: Maple Ridge
Quality
Gold: Feature Millwork,
Private Residence: Vancouver;
Silver: Benchmark
Architectural Woodworking,
Private Residnce: Alma
Service
Gold: Beckville Woodcrafts,
Private Residence: Maple Ridge;
Gold: Cranbrook Interiors,
Private Residence: Kimberly
Jack Sigurdson
Design
Gold: JSV & Dialog, UBC
Student Union Building
Above and Beyond:
Mark Stone, Eroko Distributors
Sales Rep of the Year:
Harvey Stewart, McKillican
Sales Company of the Year:
Upper Canada Forest Products
WSBC:
Wanes Custom Woodworks
GIS:
Mosaic Millwork
BCIT Design Students
First: Chanelle Girardin,
Kasbah Bar; Second: Marina
Hauner, The Avo; Third: Jerry
Kuo, Nankai Izakaya
Kwanten Design Students
First: Joanne Wong, Concept Store;
Second: Hayley Peters,
Retail Space; Third: Ashley Noone, Storage
Apprenticeship Contest
First: Kaitlin Cohan;
Second: Dorothy Hite;
Third: Paul Benzon