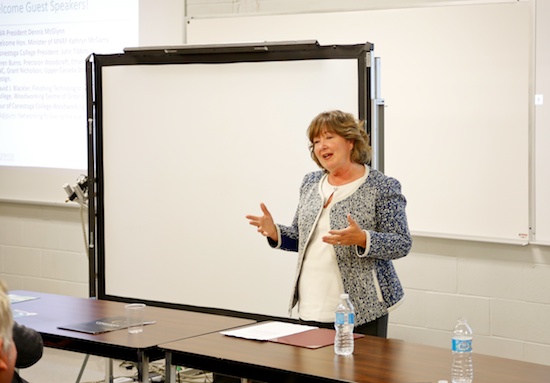 Photos: Woodworking
The Hon. Kathryn McGarry, Minister of Natural Resources and Forestry speaks to BWA members.
The Bluewater Wood Alliance has just held its biggest quarterly networking meeting ever.
The 21st. meeting of the BWA - Sept. 30, at Conestoga College's Woodworking Centre - was the organization's biggest networking event yet with around 90 industry representatives in attendance.
The BWA is a cluster of wood products manufacturing companies in Southwestern Ontario, working together for the benefit of customers, members and the industry as a whole.
Participants heard from the Hon. Kathryn McGarry, Minister of Natural Resources and Forestry, who reaffirmed the ministry's support of the clustering model the BWA is facilitating. McGarry talked about the importance of the wood-manufacturing sector to Ontario's economy and congratulated BWA on their efforts to promote Ontario products. She added that her ministry would work hard to grow the "Ontario Wood" brand and make sure Ontario Wood is the natural choice for balancing price, function, beauty, versatility and performance.
Following the minister's speech, there was a joint presentation by three BWA members who talked about the latest potential for CNC in the industry.
They shared their vision, philosophy and experience as well as offer examples of what CNC can do if used to its maximum capabilities.
Ethan Vos of Cutting Edge CNC, Loren Burns of Precision Woodcraft, and
Grant Nicholson of Upper Canada Stretchers talked about pushing the envelope for the production of complex designs, to volumes of repetitive or complex router patterns, or attractive and inspiring art pieces.
Whether you have CNC in house already, if you sub-contract it out, or if you are considering the investment yourself, the BWA, with several custom CNC shops among its members, can be a great resource.
Participants then heard from David J. Blackler, a finishing technologist with Conestoga College, who talked about finishing, including different options for surface spraying on different wood species and MDFs and how to reduce cost through maximizing coverage, minimizing passes and advanced employee training.
The event wrapped up after a tour of the college's woodworking centre, the largest post secondary woodworking educational and training program and facility in Ontario.
BWA, which started in Midwestern Ontario with about 15 companies, has since expanded its cluster region to include all of Southwestern Ontario and has grown to 93 member companies today.
They have a lot to offer and their doors are always open, so why not give them a try. The next networking event is scheduled for Nov. 26 at the Walkerton Clean Water Centre in Walkerton, Ont.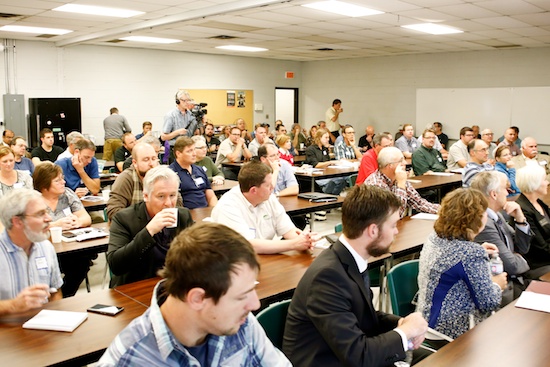 Full house at latest BWA meeting.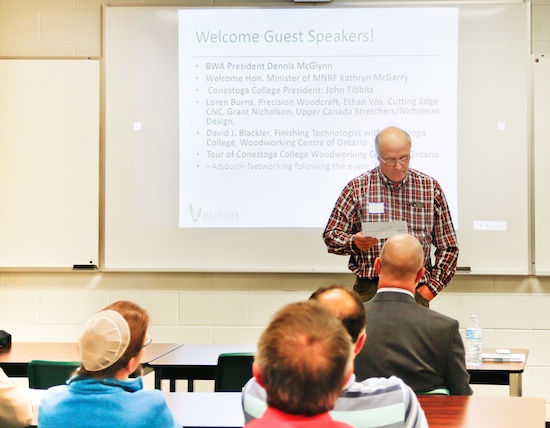 BWA President Dennis McGlynn addresses the membership.