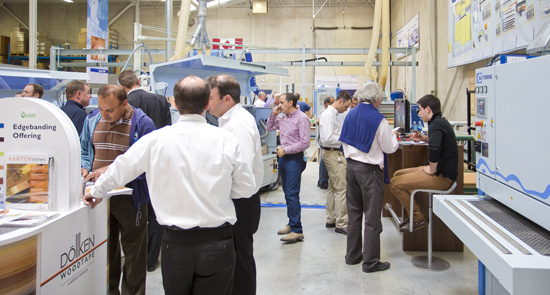 Photo: Woodworking
The next few weeks offer a great lineup of open house events.

Fall is a great time to take advantage of a number of open-house events companies are organizing to show off their latest technology.
But it's much more than that.
Many also offer interesting seminars and instructions on how to get the most from your equipment and run a better shop. HOMAG Canada invites you to its manufacturers event on Oct. 20-21, at their offices and showroom in Mississauga.
There will be a wide selection of the latest machinery and demonstrations of its woodCAD/CAM software followed by Q&A and demonstrations. MultiCam Canada will hold an open house Oct. 20-21, at its offices in Concord, Ont. complete with free workshops and continuous product demonstrations on router, plasma and waterjet machines.
And if you are in Quebec, Oct. 20-21 is the time for Biesse's Fall Inside Event in Montreal. Don't miss this opportunity to see their latest machine lineup contributing to Industry 4.0 and let them show you how Biesse technology can increase your production and improve your bottom line.
Biesse will also hold that event in the Toronto area, Nov. 3-4, at their Mississauga offices and showroom.
The Fall Biesse Inside event offers a chance to test drive some of the industry's most cutting-edge machinery, work directly with Biesse product specialists and industry professionals, and exchanging ideas and learning about new technology.
And Nov. 8-9, is the date for SCM Group Canada's Lean production demonstration for a chance to see a Lean production cell in operation or take in a series of Lean production seminars. The event will demonstrate nesting coupled with a Kawasaki robot tending an edgebander and CNC doweling machine.
And Felder Group Canada will host its open house in Mississauga, Ont. on Nov. 17-19, where they will demonstrate the latest technology.
There will also be a PUR glue seminar with Jowat, where participants will learn about the latest improvements to process panels with PUR glue for perfect results with an invisible glue line. Also, live demonstration on PUR handling with pot systems from the Felder Group. Free PUR sample packages for all attendees from Jowat.