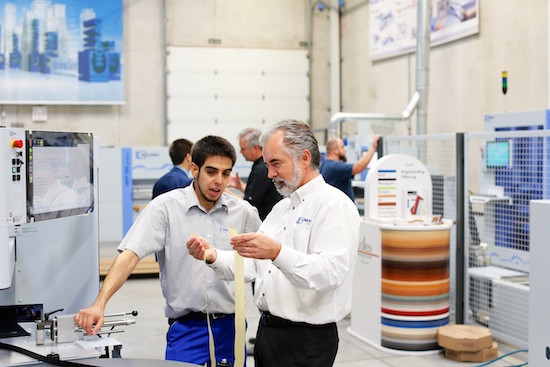 Photos: Woodworking

Close to 70 woodworking professionals came out to HOMAG Canada's Manufacturing Event and Open House.


HOMAG Canada hosted its annual Open House Manufacturing Event & Oktoberfest at its Mississauga offices and showroom Oct. 20-21, and close to 70 people came out to see the latest technology and woodCAD/Cam software in action.
"We had a really good event," says Andreas Grabe, HOMAG Canada's National Sales Manager.
"The focus for this event was on our wood CAD/CAM integrated software for 3D design and manufacturing, we had machine demonstrations and several of our suppliers were here as well. We also sold a number of machines, which is always good."
He says the software demonstrations were well received since that is often one of the biggest problem areas for manufacturers.
Grabe says HOMAG Group's woodCAD/CAM software optimizes the process of cabinetmakers and furniture manufacturers and helps them turn an idea into a product. The software takes the product from the planning, design and drawing stage all the way through to costing, production and final assembly.
The event featured a wide selection of machinery and demonstrations of the woodCAD/CAM software and Q&A sessions at 11 a.m. each day, followed by lunch and more machinery demonstrations.
"We had more than 32 companies show up for our event," Grabe says. "And there was strong interest in the software, it's so important for businesses now. If you want to be competitive you have to have good software and people are realizing that and they are willing to spend money on that."
"Of course your software needs depend a bit on the size of your business, if you do a couple of kitchens a week, you can do with basic software, but if you want to do a kitchen a day or more, you need good software and it has to work. And we are here to make sure that our software works for your company."
HOMAG Canada's sales team is working with RSA Solutions, which manages the software implementation and training for HOMAG and Grabe says they are planning to hold another software event in the New Year.