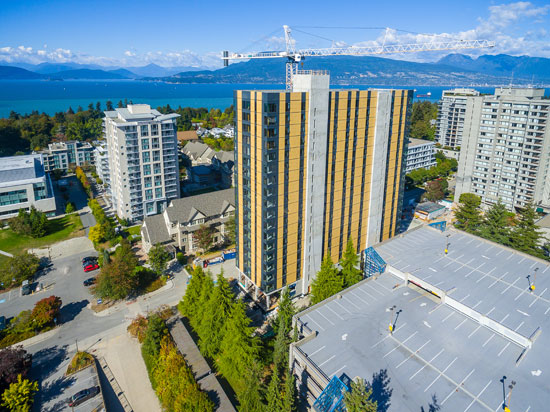 Photos: naturally:wood/KK Law & Steven Errico
Structure and facade for world's tallest mass wood building at UBC are now complete.

The mass wood structure and façade has been completed for UBC's Brock Commons student residence—the world's tallest wood building at 18 storeys (53 metres, about 174 feet)—four months ahead of schedule, showcasing the advantages of building with wood.
The structure was completed less than 70 days after the prefabricated components were first delivered to the site. Construction will now focus on interior elements, with completion expected in early May 2017, some 18 per cent (or four months) faster than a typical project. The building is expected to welcome more than 400 students in September 2017.
"This remarkable building, the first of its kind in the world, is another shining example of Canadian ingenuity and innovation, an apt demonstration of how Canada's forest industry is finding new opportunities through technology and innovation — opening up a world of possibilities for our forest and construction industries," said Jim Carr, Canada's Minister of Natural Resources.
Brock Commons is the first mass wood, steel and concrete hybrid project taller than 14 storeys in the world. The building has a concrete podium and two concrete cores, with 17 storeys of cross-laminated-timber floors supported on glue-laminated wood columns. The cladding for the façade is made with 70 per cent wood fibre.
"Brock Commons is living proof that advanced wood products are a terrific material to build with and support efficient assembly. It also showcases new applications for B.C. lumber, leading to new job opportunities in B.C.'s forest industry," said Steve Thomson, Minister of Forests, Lands and Natural Resource Operations.
Other wood structure buildings on UBC's Vancouver campus include the AMS Student Nest, the Engineering Student Centre, the Centre for Interactive Research on Sustainability, the Bioenergy Research and Demonstration Facility, and the Earth Sciences building.