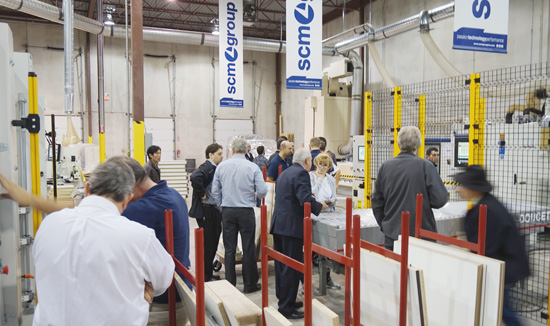 Customers are ready for more automation: SCM's Richard Bluteau.

SCM Group Canada's two-day Open House event Nov. 8-9, demonstrated a Lean production cell in action and offered a series of Lean Production Seminars at their offices and showroom in Mississauga, Ont.
"We had a great event, it was quite a hit," says Richard Bluteau, president SCM Group Canada.
"I'm quite pleased with the turnout," Bluteau says. "There is a lot of interest in automation now and the timing was right for this demonstration."
SCM Group Canada showed a nesting solution coupled with a Kawasaki robot tending an edgebander and CNC doweling machine.
The automated line produced for cabinet assembly in a CPC pass through case clamp. The cabinets — one base and one wall — will be donated to a charity.
And there were two seminars each day, starting a 9 a.m. and 1 p.m. focusing on Lean production.
More than 50 companies attended the event, which Bluteau says was designed by SCM and EdgeAutomation to show the viability of robotic installations in small to medium size shops.
"From my conversations with our customers, it's quite evident that they are very busy and they are looking at automation as a way to improve their operations.
"So there is a high level of interest and they came here to find out more about what it would take to add automation to their shops."
Bluteau says customers were also taking advantage of the Lean seminars, which were well received, and SCM is planning to organize more, similar events for 2017.