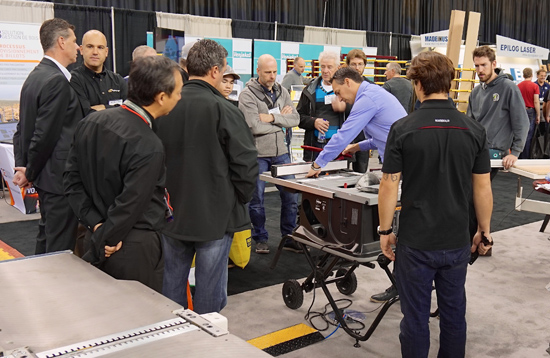 Canada Woodworking East offered a mix of the latest products, services and seminars.

Canada Woodworking East (Bois ouvré de l'est du Canada), Canada's only bilingual secondary wood event, returned to Montreal's Olympic Stadium for its second edition Nov. 2-3.
The event featured the very latest in innovative woodworking machinery and supplies and many networking opportunities and attracted 1,781 visitors.
With just under 100 exhibitors, show manager Mike Neeb says the second edition of the show received a lot of positive feedback from cabinet manufacturers, residential and commercial furniture manufacturers, custom wood product manufacturers, architectural woodworkers, and millworkers who attended the event.
"We are pleased to report that over the event's two days, 1,781 buyers walked the show floor," Neeb says in a news release.
"The main message we've been hearing is that the quality of visitors was high, and that the right people were at the show. Many exhibitors also commented on the business done right on the show floor, with numerous leads and sales coming about as a result of the show.
"Overall, our team was pleased with the event."
The show attracted members of the secondary woodworking market from across Quebec and Eastern Canada As part of its program, the show included a cutting edge seminar series covering diverse topics of interest to a wide variety of industry professionals and sponsored by the industry's leading associations. Additionally, the show's "Innovative Products" program highlighted an exciting selection of new products and technologies.
The third edition of Canada Woodworking East will take place in 2018; we invite you to stay tuned to www.CanadaWoodworkingEast.ca for details.
Canada Woodworking East was once again co-located with InterSaw, the International Sawmilling Expo.