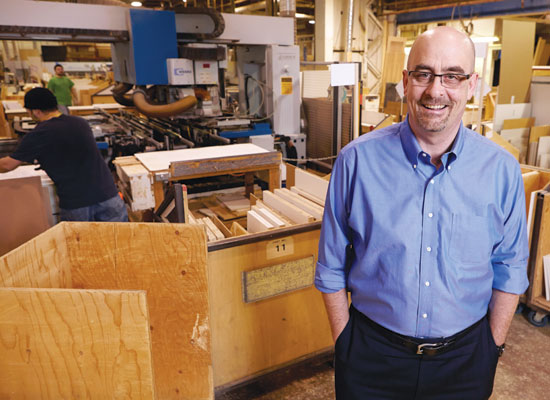 Scott Hodson, president & CEO, Superior Cabinets


Superior Cabinets is the winner of the 2015 Canadian Manufacturing & Exporters (CME) Saskatchewan "Manufacturer of the Year" award. The award recognizes an outstanding Saskatchewan manufacturing company who has made invaluable contributions to innovation, leadership, export, and manufacturing practices. The award was presented to Scott Hodson, President and CEO of Superior Cabinets at the Minister's Manufacturing Dinner held in Regina, Saskatchewan. The event was in held in conjunction with Manufacturing Week (November 28th – December 2nd).

Superior Cabinets has been though a dramatic turnaround over the past five years. "To give you the magnitude of the turnaround of our company, the last time we produced 25 Kitchens per day was in 2008, which took 400 people and 16 weeks to get it installed into the house. "Today it takes 250 people and we install it in 6 weeks guaranteed," said Scott Hodson, president and CEO of Superior Cabinets. "We are proud to manufacture our products in Saskatchewan, it's one of our biggest competitive advantages." "We have completely transformed our front to back processes and have fully embraced and integrated a continuous improvement mindset throughout the company," said Jason Warkentin, vice president of manufacturing and supply chain of superior cabinets. "The deployment of programs such as Lean and 5S, partnered with our dedicated staff in all departments including corporate, retail stores, and manufacturing, has resulted in a culture of constant innovation."

Superior's transformation is an example of how Canadian manufacturers are changing to become more customer driven and dynamic in the face of increasing competition at home and abroad.
Superior Cabinets was founded in 1980, and is one of Western Canada's leading manufacturer and supplier of frameless kitchens with a long-held and well-earned reputation for fine quality products, outstanding customer service and dedication to employee success.

Superior sells through their retail stores in Saskatoon, Regina, Calgary and Edmonton, as well as a network of 75 dealers. The 55,000 sq.ft. cabinet production facility is located in Saskatoon, Sask.