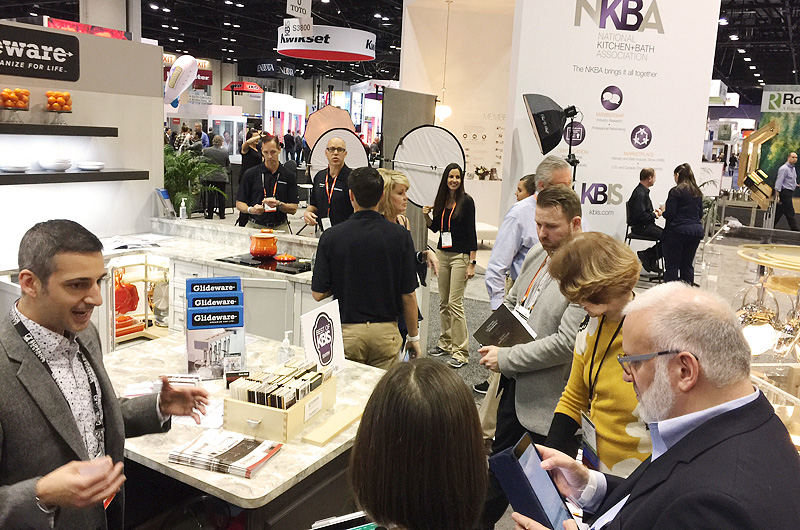 Photo: Contributed
Superior Cabinet's Shahan Fancy speaks to judges about the Fusion finish.
Congratulations to Superior Cabinets of Saskatoon, Sask. for winning the 2017 Best of KBIS - People Choice Award in the kitchen category for their Fusion Finishes on MDF.
"This award is a testament to the spirit of innovation within our company, particularly between our manufacturing team and supply-chain partners," says Scott Hodson, president & CEO, Superior Cabinets.
"Our manufacturing team were the creators of this successful product, they saw a solution to an opportunity in the market.
"Our culture of team and individual empowerment gave them the latitude to start experimenting and permission to go for it. Fusion is an example of what is possible if you just have an idea, this turned out to be a great idea."
Superior Cabinets launched their award-winning innovative handcrafted MDF Fusion Finishes line in the U.S. market at KBIS (Kitchen & Bath Industry Show) in Orlando, Florida in January 2017.
The company has seen significant growth with its Fusion Finishes line of cabinets on MDF and it has quickly become the top selling product offering at Superior Cabinets. The product, which was launched in 2010, was developed out of necessity as the cabinetry market shifted its focus to wood alternative cabinets.
"We were looking for an alternative to Thermofoil to accommodate the ever-growing multi-unit segment of the business," says Adam Taman, business development manager at Superior Cabinets.
"The team started to experiment with stain on Medium Density Fiberbord (MDF), and the results were nothing short of phenomenal."
Superior Cabinets was founded in 1980, and is one of Western Canada's leading manufacturer and supplier of frameless kitchens with a long-held and well-earned reputation for fine quality products, outstanding customer service and dedication to employee success.