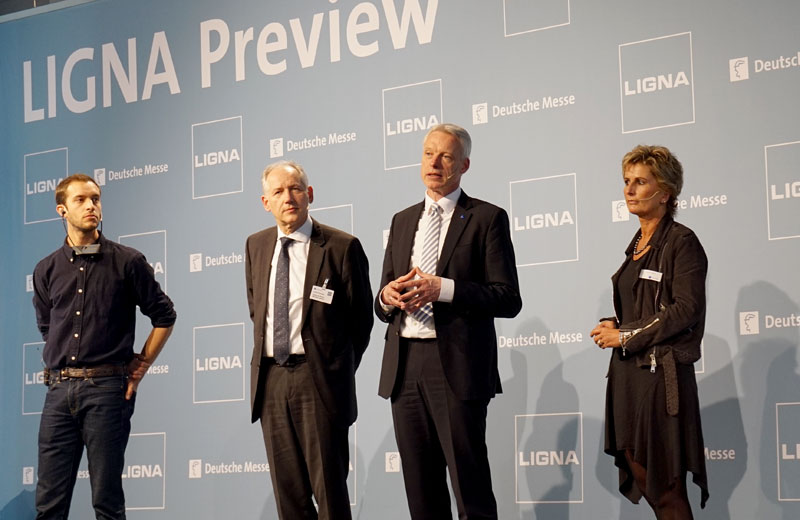 LIGNA organizers used last week's LIGNA Preview event to unveil new details for the industry leading show.
Photos:Woodworking

Last week, LIGNA organizers Deutsche Messe and the VDMA (German Woodworking Machinery Manufacturers' Association) in partnership with 33 exhibitors, unveiled the 2017 LIGNA program, themes and technology to the press at an exclusive preview presentation at the fair grounds in Hannover, Germany site of LIGNA 2017 from May 22-26.
Anticipation is building. Preparations are well underway and all indicators are suggesting this will be a show not to be missed. The world's leading show for the woodworking industries continues to expand. Amongst the 1,500 exhibitors more international companies are participating than in previous years. More exhibit space is booked. More machinery, technology, supplies and services will be on display in 10 exhibit halls featuring a revamped floor plan, and the large outdoor exhibit areas will be filled as well.
"The new approach and, more importantly, the new physical layout have been extremely well received. The business climate in the wood industry is positive, offering a wealth of market opportunities," says Dr. Andreas Gruchow, the Deutsche Messe Managing Board member responsible for LIGNA. He added that: "This year, the exhibitors are presenting a wide array of innovations for intelligent, networked manufacturing systems, not to mention new ideas and strategies for the many value-creation networks at play in the wood processing and woodworking industries."
This year's LIGNA takes place at a time when the economy is firing on all cylinders in key markets in the industry.
Wolfgang Pöschl, chairman of the VDMA and CEO of WEINIG AG, told the audience that Germany's woodworking machinery manufacturers had a record year in 2016, topping the previous record set 2007 and that early figures point to further, moderate, growth for 2017.
The 33 exhibitors that took part in the presentations offered previews and insights of the innovations that will be shown at LIGNA 2017. Woodworking was there and we will share a summary of what we learned in the upcoming March/April issue. Be sure to look for the new edition in late March and start making plans to be in Hannover from May 22- 26.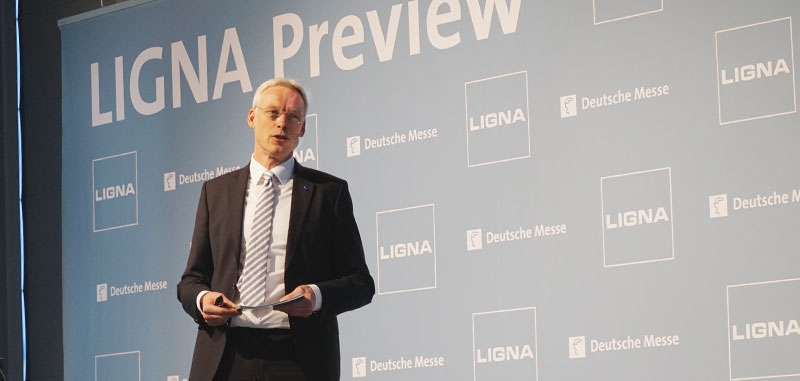 Dr. Andreas Gruchow, the Deutsche Messe Managing Board member responsible for LIGNA.