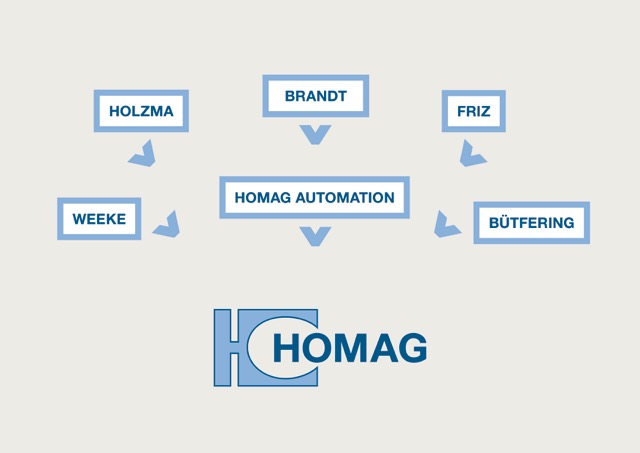 HOMAG Group is merging all of its existing brands into one brand.
In the future, every machine made by the HOMAG Group will bear the HOMAG logo. Customers around the world may continue to rely on the standard of quality they are used to, but their HOLZMA panel dividing saw, BRANDT edge banding machine, WEEKE CNC machine or BÜTFERING grinding machine will now bear the HOMAG logo.
Any company seeking success in today's economy must keep an eye on the market, listen to customers and be open to change. The HOMAG Group has taken this to heart and has realigned the company for its customers, suppliers and business partners. With the emergence of the 'new HOMAG Group,' it has also announced a change in brand strategy, a new claim of "YOUR SOLUTION" and a new brand presence.
With the decision to focus on HOMAG as a single strong brand in the future, the company is placing even greater emphasis on the requirements of its customers, suppliers and business partners. This will result in greater clarity in communication and a simpler orientation of the company's product range.
Since the 1960s, the HOMAG Group has been driving the wood processing industry forwards with innovations and technologies while also shaping the market with help from its customers. Thanks to its clear strategy, the HOMAG Group has developed into a company that covers the entire process chain for the field of wood processing — with 6,000 employees who work hand-in-hand for customers all over the world.
Today, the group is an industry leader in the world market. This was only made possible by the staff looking to the future, continuously developing new
innovations and being receptive to change. In recent years in particular, the world around us has been changing at an increasing pace. Globalization, individualization, networking and digitalization are just some of the keywords that illustrate this change.
This rebranding will provide a wealth of advantages for the customer:
1) One contact in the sales department for all solutions.
A personal HOMAG expert will offer advice on all products and will help the customer to develop their own individual solution
2) One strong development team for innovation power.
By combining development expertise, new solutions will be introduced onto the market faster. The aim of these innovations is always to further the customers' businesses, prepare them for the future and optimize their processes.
3) One strong service team worldwide.
HOMAG service employees draw on solid technical expertise to provide rapid and professional support around the globe.
4) One website for all solutions.
From now on you will find all solutions from HOMAG under one website address. This means that the user benefits from a comprehensive product overview as well as a wealth of customer experience. Find out more at www.homag.com