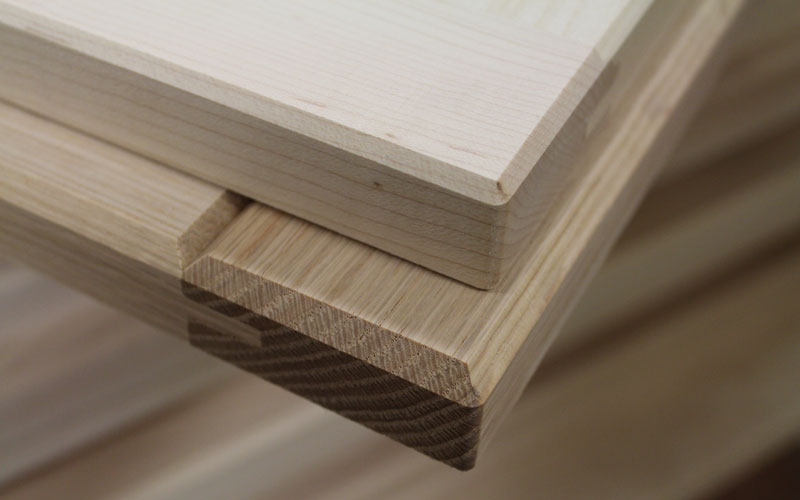 Photo: Contributed
A cabinet door being machined on a CNC Router with diamond tooling solution.
European influences and interior design trends have made solid wood five-piece cabinet doors less common in kitchen manufacturing markets. However, there is still a dedicated market segment in many regions, which values the attributes of solid wood doors. Many cabinet designs utilize MDF doors in lower and higher price point products, with good success. CNC machined MDF doors can be produced with less variation and chance of defect in most situations. Although solid wood cabinet doors have been in existence much longer, it can be difficult to maintain the same level of consistent quality due to material variation and traditional machining methods. More recently, advancements in machinery and tooling technology, have helped solid wood cabinet door manufacturers to achieve better quality products than ever before.
Machinery Trends
The majority of solid wood door manufacturing has traditionally been done with cutter heads on shaper or tennoner equipment. High volume producers generally utilized double end tennoners with dual spindle rotations, to ensure good quality and efficient production. The advent of "jump heads" in opposite rotations, made tennoners the preferred choice of machinery for many years. A double sided machine with four cutting tools, was extremely efficient when making standard door sizes, but custom door sizes obviously made machine set up more time consuming and tedious. Due to market demand for custom sizes, CNC routers have become the preferred option for machining the outside edge of solid wood cabinet doors. The use of CNC router equipment has not necessarily improved cycle times, but it has definitely improved manufacturer's ability to produce consistent cut quality and accurate final dimensions of door products.
Challenges
Cross grain tear out on the ends of five-piece cabinet doors, presents a challenge for tooling manufacturers. A common response by machine operators and programmers is to slow down the feed rate of cutting tools to reduce the grain tearing. This may be a manageable solution for the short term, but lower feed rates obviously reduce machine productivity and will inevitably reduce tool life in the long run.
Inconsistent outside door dimensions can be a problem that is often recognized by cabinet installers and customers who look closely at cabinetry. It is obviously easier to control this variable outside dimension on CNC routers to ensure the final outside door dimensions are square. Teniers with multi-rational jump head features do help reduce grain tearing, but still run the risk of a transfer line between the two cutters running in opposite directions. A transfer line from two cutting tools is generally not difficult to remove; however, it does necessitate a secondary operation, and created another area of defect possibility.
Tooling Solutions
Diamond High Shear Tools
High-shear tool geometry has proven to virtually eliminate cross grain tearing on solid wood cabinet doors. Furthermore, cut quality improvements can be made without reducing feed rates. In fact, many operations have reported possible feed rate increases of in excess of 30% by using high shear technology in this application. Furthermore, elimination of multi-rotational tooling, reduces cycle time and tool change requirements.
The key to cut quality improvements is consistency, to ensure the same quality can be repeated on every door with minimal variation. Diamond tooling solutions have improved machining consistency for many years, by maintaining cutting edge sharpness 300 to 400 times longer than carbide. High Shear geometry further increases the tool life by five to 10 times and seems to provide a level of durability that cannot be achieved with traditional diamond tools.
Integrated Body Tools
Image 2B shows a tool made in one solid unit, without any point of connection between tool and holder. We have discussed the performance advantages of integrated tools in the past, but this cabinet door application in particular, creates a need for more accurate tooling solutions. The rigidity and balance of an integrated tool/holder systems, in combination with high shear diamond geometry, will produce the absolute best quality door edge possible.
Cost Benefit
Tooling costs associated with cabinet door production are relatively low, relative to other inputs such as material, labor and machinery. Higher purchase prices of premium tooling products will not change the sale price of doors substantially, but the performance of tooling will have a dramatic affect on the end product and ability to demand premium prices for doors. The average high-shear tool will demand three to four times higher tooling cost depending on size of tool. But the cost increase is more than justified by value added performance benefits and reduction of product defects.
High shear diamond tooling can reduce cycle time on door edge machining processes by 30% or more, while providing cut quality which is not achievable by any other tool design. The true cost of product defects is always difficult to establish with any certainty, but clearly door edge quality and accuracy is a noticeable feature that should be a priority for quality control departments. Premium tooling solutions and proper machining methods can virtually eliminate the chance of defects in this application.
CONCLUSION
Cabinet door styles have changed dramatically over the years, and will continue to evolve, but quality products will never go out of style. A market shift away from solid wood doors may continue, but if customer feedback from the United States is any indication, we will be producing solid wood cabinet doors for many years. Solid wood does present substantial machining challenges depending on wood species, moisture content and many other variables. However, new equipment options and tooling solutions can play a valuable role in overcoming these challenges and producing the best possible end product.