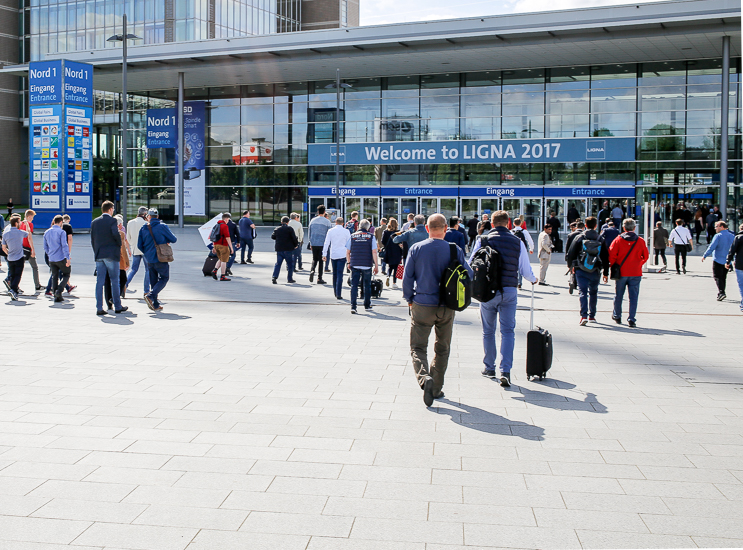 Photos: Woodworking
LIGNA continues in Hannover, Germany for two more days.

More exhibitors, more visitors and more technology, those are just some of the hallmarks of LIGNA 2017, which continues for two more action-packed days in Hannover, Germany.
The world's leading fair for the Wood processing and woodworking industry has not disappointed as tens of thousands of visitors have already found out as the wandered the busy halls to see all the latest innovations in machines, equipment, tools and services.
With more than 1,500 exhibitors from around 50 nations and visitors from 90 different countries, LIGNA 2017 (May 22-26), once again astonishes with the sheer number of innovations exhibitors have unveiled at this flagship event.
As by far the world's biggest and most international woodworking industry trade show – all the global market leaders exhibit here – LIGNA presents a broad and diverse offering from all the important industry players as well as from hundreds of smaller companies who benefitted from this year's all-new show layout, which has been widely praised.
Organizers have said they were very pleased after a strong opening day and that trend has continued.
LIGNA spokesperson Anja Brokjans said organizers were thrilled with the busy start to the industry-leading show, the positive outlook from participants, and an overwhelmingly positive response to the new thematic layout.
The show occupies 10 exhibition halls plus the venue's expansive open-air site.
The first three days of the show have seen busy exhibitor stands and aisles and numerous exhibitors commented positively on level of activity they've experiences at the show.
Add to that the overall buoyant business climate in the industry and it's easy to see why organizers and exhibitors are happy with the early results.
This year, exhibitors are presenting a wide variety of innovations for intelligent, networked manufacturing systems, not to mention new ideas and strategies for the many value-creation networks at play in the wood processing and woodworking industries.
LIGNA covers all the technologies companies need to succeed in tomorrow's 'Industry 4.0 world.' The range includes tools and machinery for custom and mass production, surface technology innovations, wood-based panel production solutions, sawmill technology, wood energy technology, machine components, and automation and forestry technology.