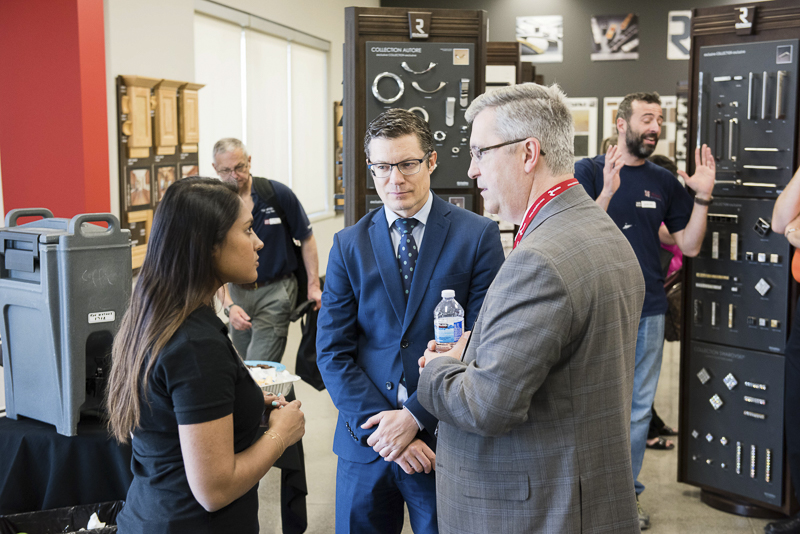 Photos: Contributed
More than 400 customers, architects and designers attended the popular Trend Event.
Richelieu Hardware held its popular annual Trend Event at their offices and showroom in Mississauga on June 1, and more than 400 customers came out see the latest trends and innovative new products from North America, Europe and around the world.
"It was another great event for us," says Rick Hurst, industrial sales manager with Richelieu Hardware.
"We had a lot of interested customers attend the event and this year we also had 10 European vendors who flew directly to our event from interzum in Germany which had just wrapped up.
"It was a good day, even though the weather was not ideal and it was unusually cool."
Among some of the many event highlights were two new products from Ninka. The new corner cabinet solution Qanto, for optimum space planning and maximum storage and One2seven, a new waste bin system for Legrabox, featuring a modern hanging frame system for waste bins for use with drawer systems using under- mounted drawer slides.
In addition there were new glass sliding doors systems, new pivot and pocket doors as well as new innovations from Panasonic. Richelieu Hardware added Panasonic Housing Solutions to its growing product catalogue a few years ago and continues to roll out products from that company's extensive line-up.
The Trend Event was organized for Richelieu's regional customers and the design and architectural communities and offered the first chance for many to see the latest designs - many first unveiled at the recent interzum 2017 in Cologne, Germany - all in one place and close to home.
"The Trend Event always gets great reviews from our customers and we've already started plans for our 2018 event, which will be held right here on June 7."
The Trends Event featured decorative hardware, lighting, kitchen solutions, decorative panels, particle boards, MDF, finishing products, hinges and slides, tools and much, much more.