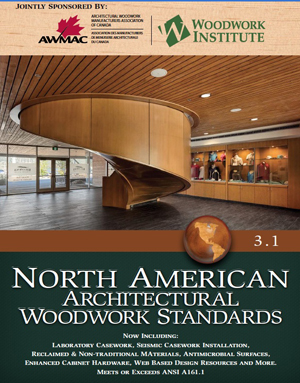 After entering into an agreement on March 3, 2016 to develop a new architectural woodwork standard for North America, the Architectural Woodwork Manufacturers Association of Canada (AWMAC) and the Woodwork Institute (WI) are pleased to announce the NEW North American Architectural Woodwork Standards 3.1 (NAAWS 3.1) took effect on July 1, 2017.
NAAWS 3.1 is a comprehensive and forward-focused standard that builds on, and replaces AWMAC's and WI's previous standard; the Architectural Woodwork Standards (AWS). It includes upgraded and enhanced standards for:
Reclaimed and non-traditional materials
Laboratory casework
Seismic casework installation
Cabinet hardware
Antimicrobial surfaces
NAAWS 3.1 also provides improved, easier-to-use formatting, colourized visual aids and many interactive features.
NAAWS 3.1 includes a number of additions and improvements to the Architectural Woodwork Standards, Edition 2.
Best of all, digital copies of NAAWS 3.1 are free for limited use by design professionals, building owners, contractors, fabricators, installers and the educational community.
Registration for a FREE digital copy or purchase of a hardcopy is available at www.awmac.com/naaws.
NAAWS 3.1 is adopted and published jointly by AWMAC and WI – in English and French editions – effective July 1, 2017.
AWMAC is the national voice of the architectural woodwork industry in Canada and is comprised of more than 400 dedicated industry professionals in eight regional chapters across Canada. Membership includes architectural woodwork manufacturers and installers, material and service suppliers, design professionals and educational facilities.