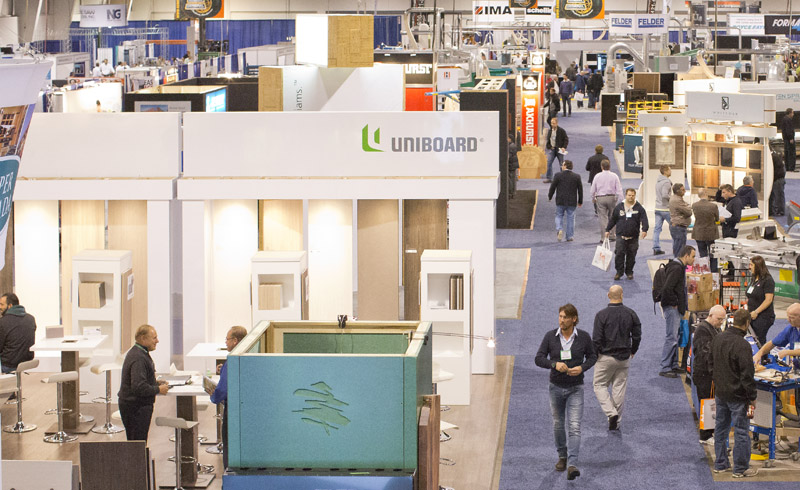 Photos: Woodworking
WMS organizers report space sales and show size ahead 42% and 58% respectively.

Registration is now open for the Woodworking Machinery & Supply Expo. Canada's national wood manufacturing expo and conference runs Nov. 2-4 at the International Centre in Mississauga, Ontario, in suburban Toronto.
Learn more and register
Registration for the expo floor is now live, including preliminary conference registration. Additional details on sessions will be available shortly. Conference passes including lunch and a plant tour are also available.
This year WMS planners are also offering registration for individual sessions and pre-show offsite events.
The biannual event is Canada's largest exhibition of woodworking technology and supplies. The 2017 edition is expected to draw thousands of wood industry business owners, execs and operators, to view more than 250 companies.
Exhibit space sales surging
According to WMS Show Manager Harry Urban, exhibit space sales are running 42% ahead of 2015, 18 weeks out from the start of the show. Also, the show is 58% ahead of 2015 in square footage 18 weeks out.
"The Canadian woodworking industry is thriving right now and we are seeing a lot of new and former exhibitors returning to our show as well as longstanding exhibitors expanding their booth space."
Expanded WMS Conference, Plant Tour
WMS continues its long-term partnerships with leading wood industry organizations in Canada, including the Centre for Advanced Wood Processing - CAWP - at the University of British Columbia, as well as the Canadian Kitchen Cabinet Association, the Architectural Woodwork Manufacturers of Canada (AWMAC), and the Bluewater Wood Alliance.
CAWP was instrumental in assembling an Educational Steering Committee for WMS. The Centre for Advanced Wood Processing is Canada's national centre for education, training and technical assistance for the wood products manufacturing industry. CAWP offers a wide range of training courses, professional e-learning programs, in-plant training, product development, and manufacturing improvement services, and conducts and coordinate applied research and development.
The Canadian Kitchen Cabinet Association, which relaunched its certification program in March 2017, will provide an update at WMS on the changes in the new program. The CKCA Certification Program was originally launched in 2009.
Another session will be led by Nick Anastas, the GIS director for AWMAC Ontario. His presentation will address Understanding the new North American Architectural Woodwork Standards. Titled NAAWS 3.1, it is a new comprehensive and forward-focused standards manual that builds on and replaces Architectural Woodwork Standards (AWS).
ProPly plant tour
Preliminary plans for two days of conference programs, with tracks covering finishing, business management, panel and hardware trends, and best practices for shop operations, are planned for Nov. 2 and Nov. 3. A show floor tour of significant products is also being developed.
The opening luncheon keynote will be Sylvain Garneau, CEO of Groupe Lacasse and BIFMA board president.
Attendees of WMS 2017 will also have the opportunity to participate in a tour of the highly automated ProPly Custom Plywood Inc. in nearby Brampton, Ontario. That tour is slated for the afternoon of Nov. 2.