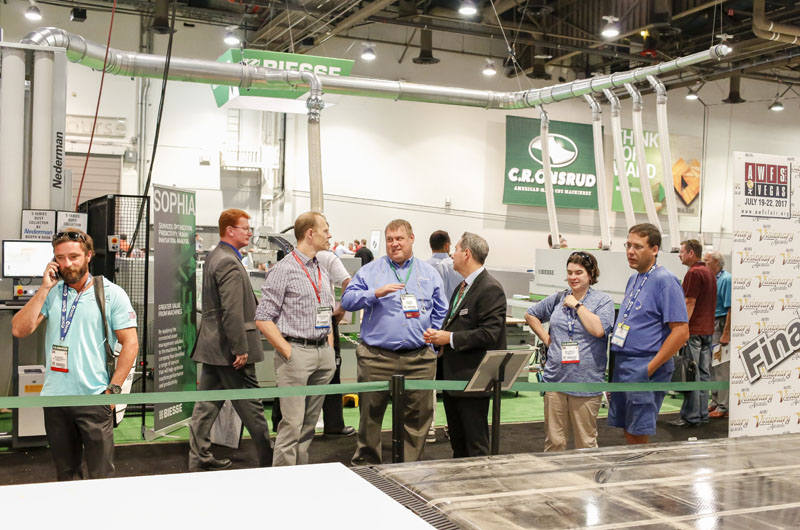 Photos: Woodworking
AWFS Fair featured more than 675 exhibitors.

AWFS Fair 2017 in Las Vegas, Nevada has surpassed all expectations, according to Angelo Gangone, AWFS xxecutive vice president.
AWFS Fair, the biennial trade show for the woodworking industry, took place at the Las Vegas Convention Centre in Las Vegas, Nevada July 19-22, with top industry manufacturers and professionals exhibiting the latest woodworking machinery, equipment, technology and services.
"We expected to have a really great show and from all measures it appears to have surpassed our expectations," Gangone says.
"One great indication of this, is the number of re-signs that we received for 2019, which is the highest in our show's history."
More than 675 exhibitors – including more than 140 first time exhibitors – used the year's largest North American trade show to exhibit the latest equipment, hardware and software and everything in between on an expanded show floor.
Opening day lived up to the promise of a larger and busier show with strong attendance and the next couple of days saw swelling crowds and happy exhibitors.
The final numbers were not available by press time, but are expected to be released later this week.
Among the event's many highlights was John Ratzenberger's Keynote where he single-handedly took on the responsibility for Woodstock and the resulting problems because he was involved in building the stage there. But on a serious note, Ratzenberger encouraged parents to teach their children the value of work and self esteem by having them build things. These kinds of activities were formative moments in his childhood and taught him to appreciate the value of hard work and manufacturing and he suggested teaching children these values would encourage more of them to take up well-paying trades and manufacturing jobs.
Industry 4.0 dominated this years AWFS Fair with machine manufacturers showing everything from fully connected, automated work cells to Dürr Group's compact and ready-to-spray painting robot. Then there was an extensive education program offering everything from business management to the latest in software and production technology and of course Industry 4.0.
There was also the Visionary New Product Showcase, a Makers' Lounge for small shops as well as students' competitions.