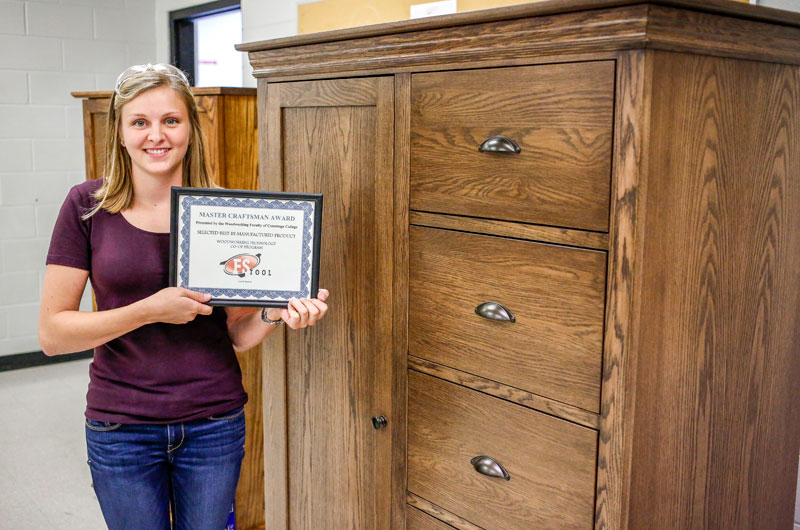 Photos: Woodworking
Heather Cummings won first place for an armoire crafted from red oak and maple, and stained with fumed oak.

Second-year students of Conestoga's Woodworking Technology (co-op) program presented their projects at the Woodworking Centre's annual showcase at the Doon Campus on Aug. 17.
Faculty member Richard Bruckeder welcomed students, families and friends, faculty, industry partners and event sponsor FS Tool to the event.
Student projects' demonstrated a broad range of skills, and pieces on display included everything from a harp, to tables, cabinets, shelving units and even a bar.
Bruckeder congratulated students on their excellent work and dedication and acknowledged the efforts that went into producing the pieces. Each student completed the project with 120 hours of shop time and 45 hours of design.
Some 20 students were on hand for the event to talk about and explain their projects.
The Best in Manufactured Product Award is sponsored by FS Tool and is an opportunity for second-year students to show off their skills and compete for prizes and bragging rights.
Among those in attendance were Julia Biedermann, executive dean, engineering-technology-trades; Mike Baker, executive director, Blue Water Wood Alliance; Laurie Suikki, association manager, AWMAC Ontario Chapter; Peter Gallagher, president of AWMAC's Ontario Chapter and Tony Colangelo, president, FS Tool.
Before announcing the top three projects, Richard Bruckeder invited event sponsor FS Tool to address the crowd.
"I am extremely impressed with all the projects," said FS Tool President Tony Colangelo.
"FS Tool is proud to be involved and provide support."
FS Tool has been event sponsor for woodworking showcase events for the past five years, providing support twice a year. In addition to event sponsorship, the company provides the college with educational pieces and product updates. They also employ graduates of Conestoga's woodworking programs.
And AWMAC Ontario's Peter Gallagher presented the college with a cheque for $1,000 from the organization for the Al Sparling Memorial Bursary at Conestoga College.
Projects were judged by both current and retired woodworking faculty and based on product design and development, craftsmanship, and product presentation. Heather Cummings was the big winner earning first place for an armoire crafted from both red oak and maple, and stained with fumed oak. With her top honour, Cummings received $300 and entry into the 2018 Summer Tech Showcase at Conestoga's School of Engineering Mastercraft Award. 

Second place went to Andrew Gugan for a pair of nightstands, while third place was awarded to Ryan Kroesbergen for the only musical instrument in the showcase - a harp crafted from maple and Sitka spruce. Second and third place winners received $150 and $50, respectively. 

Students will start their co-op turn after the summer break and return to the college for the final semester in January.
Conestoga's Woodworking Centre of Ontario is a 50,000 square foot facility that began in 1988 and has grown to become the largest woodworking training centre in North America.