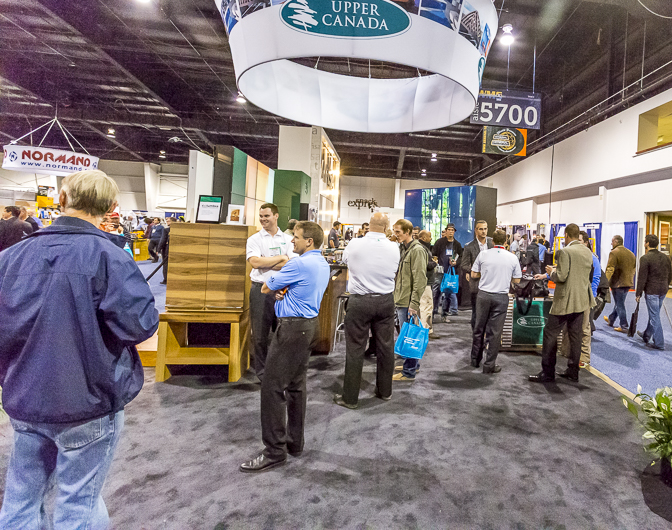 Photos: Woodworking
Thousands will visit WMS 2017 for more than industry 250 products and services.

The Woodworking Machinery & Supply Conference and Expo - the largest event for the secondary wood manufacturing market in Canada – will return to the International Centre in Mississauga, Nov. 2-4.
A two-day conference program will run concurrently on Nov. 2 and 3, along with a pre-show finishing conference Nov. 1, and a plant tour on Nov. 2.
Once again this year, WMS 2017 has partnered with the University of British Columbia's Centre for Advanced Wood Processing for a full-day conference program. The WMS education program was guided by an exhibitor and industry steering committee established during the planning for WMS 2015. Momentum continues to build for an even bigger edition of the show and conference in 2017, which will exceed the more than 5,400 attendees at the last event.
"We have added more education and a reinvigorated attendance promotion program utilizing our long-standing media partnerships in Canada, and our growing database for promoting the 2017 event," says Tim Fixmer, CEO of CCI Media.
WMS will offer three days of education sessions, hands-on demonstrations and the largest exhibition of woodworking machinery, supplies and software in Canada.
Harry Urban, WMS manager, said past attendee surveys reveal the need for more advice for running a shop, large or small. "Our sessions devoted to best practices will cover everything from basic 'what not to do' advice to lean principles and Industry 4.0," he said.
All-day Conference Passes are offered for each four tracks – Cabinets Production, Finishing, Panel & Hardware Trends, and Management Best Practices - including lunch and a plant tour are available. This year WMS planners are also offering registration for individual sessions.
As in past years, WMS has worked with Canadian woodworking industry leaders to develop its curriculum.
"We are proud to be partnering with some of the most important associations and institutions in Canada in the development of our agenda," said Urban. Included in the programming for WMS 2017 are sessions the Canadian Kitchen Cabinet Association, the Architectural Woodwork Manufacturers of Canada, the Bluewater Wood Alliance, the Centre for Advanced Wood Processing and Conestoga College.
The biannual event is Canada's largest exhibition of woodworking technology and supplies. The 2017 edition is expected to draw thousands of wood industry business owners, execs and operators, to view more than 150 exhibits with hundreds of products.