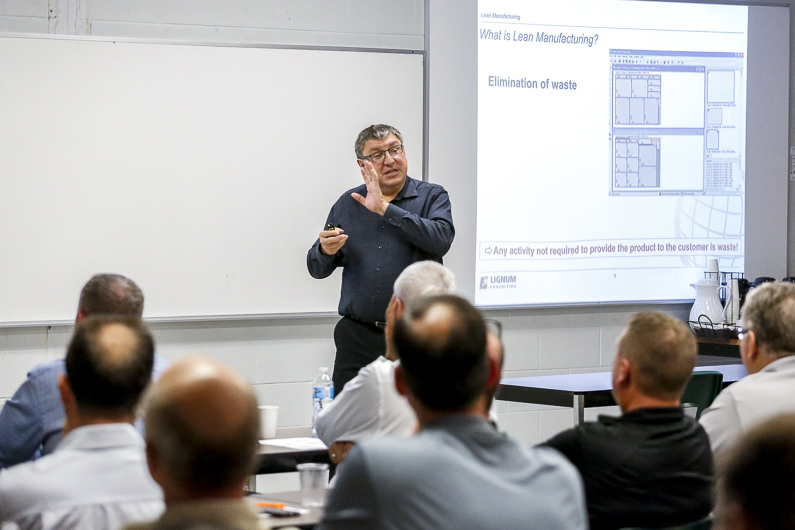 Photos: Woodworking
Sepp Gmeiner was among the guest speakers at the recent BWA Networking Event at Conestoga College.

Some 60 participants came out for Bluewater Wood Alliance 25th Quarterly Networking Event at Conestoga College.
Participants got the latest updates about BWA from Mike Baker, executive director, and then moved on to networking opportunities and presentations from industry experts.
Baker told participants the BWA has added five new members to its ranks since the last event with the total membership now at 107 companies and consisting of 72 manufacturing members and 35 associate members.
Baker also talked about an application for funding through BWA participation in a manufacturer supercluster. BWA is part of an application from a number of industry sectors for special government funding and if approved, the organization's portion of that funding would be $30 million over five years at 50 per cent funding ($15 million). Current members in good standing would be eligible for funding.
Baker said he expects to hear whether or not the application has been approved some time in January.
The Bluewater alliance is the only wood-manufacturing cluster of its kind in Canada and the U.S. and Baker said there is a lot of interest in the concept and BWA has been invited to speak in the U.S., Thunder Bay, Toronto and Ottawa to tell the BWA story.
Guest speakers were Sadoon Mohiuddin of Canmade, Sepp Gmeiner of Lignum Consulting, Brad Cairns of the Centre for Lean Learning and Andrew Wall of Sandler training.
Mohiuddin of Canmade explained the new anti-tipping by-laws (F2057 and F3096) Government of Canada is implementing for the home furniture industry. He brought in a sample of Vokes Furniture for the demonstration that was well received.
Gmeiner and Cairns talked about lean principles and how they can be applied to wood production and the good things that can happen when employees become engaged and a part of the process.
Last but not least, Andrew Wall provided an informative and interactive session on how to manage the right approach to sales development.
Following the meeting at Conestoga, participants met at the Edelweiss Tavern in Kitchener for additional networking and social time.
BWA has organized tours of Toyota Canada on Oct. 26 and Nov. 15, but you must be a member and register to participate.
The next and final Networking Event for 2017 is scheduled for Nov. 22.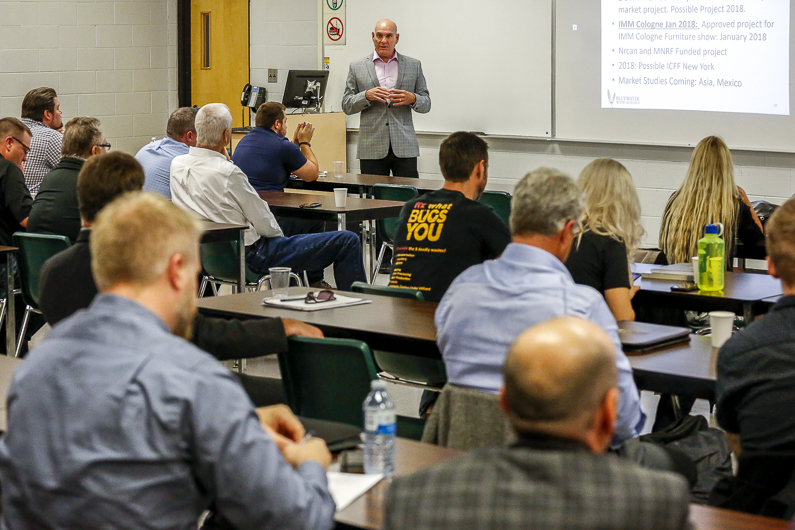 BWA's Mike Baker, executive director updates participants.