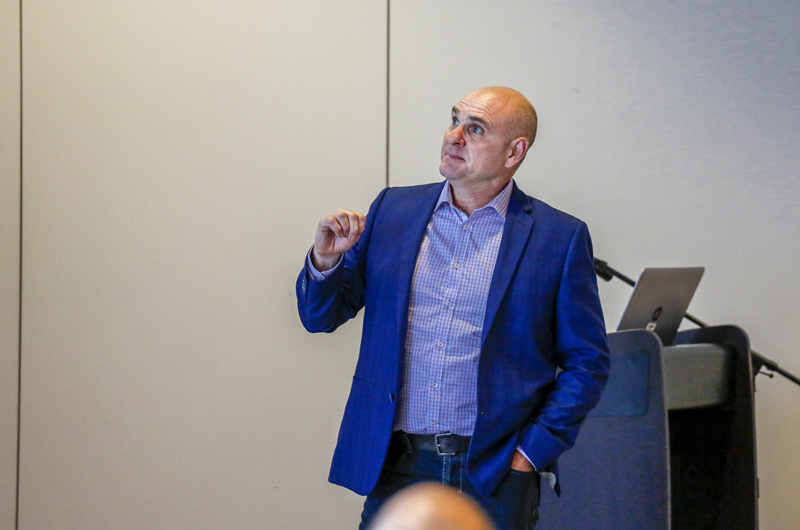 Photos: Woodworking
Mike Baker updates members at the most recent meeting of the Bluewater Wood Alliance.

The Bluewater Wood Alliance continues to grow its membership and its reach.
What started out as just a handful of like-minded wood product manufacturers and suppliers in Midwestern Ontario adopting a 'cluster' model to work together has now matured into an organization with 110 members spread out all over Southwestern Ontario.
And on Nov. 22, the Alliance held its first Quarterly Networking Events south of Toronto, in Burlington.
"As we continue to grow and as we get to 300 members - hopefully in a couple of years - we are also trying to spread out our meetings to make them accessible to all members," says BWA Executive Director Mike Baker.
"Our (catchment) area now encompasses all of Southwestern Ontario, so anything west of Highway 400, from Toronto to Windsor and Niagara Falls," he says. "And I've been told that area has around 1,500 wood manufacturer shops and generates $5.2 billion in revenues."
That's the highest concentration of value-added wood product manufacturing in the country.
It also means there are a lot of potential members and Baker says as more manufacturers see the benefits of becoming a member of the BWA, their reach and influence will continue to grow.
The Alliance is the only wood-manufacturing cluster of its kind in Canada and the U.S. and Baker says there is a lot of interest in the concept and they have been invited to numerous events to talk about the cluster. He says governments and other organizations are looking at this 'cluster' as a way to strengthen other industries as well.
"We are based on the Austrian cluster model," Baker says. "The idea is for companies in the cluster to work together, help each other, share resources and much, much more. Our meetings are usually short, just a few hours, and everyone is within a 2-4 hour driving radius to keep things simple."
The Alliance is a not-for-profit corporation governed by a board of directors consisting of the members and decisions on direction and projects come from the bottom up, as this is truly a "member-driven" organization.
"Manufacturing is our focus," Baker says. "And I think it is the mix of sharing expertise, resources and training, and the fact that we are listening to what our members want, that make us successful.
"We have organized training and learning session on many different topics, all of them initiated through member requests. Another example are our plant tour focus groups where the host provides a problem to solve, making it a Kaizen (continuous improvement) exercise."
Baker says it's through these events, everything from finishing workshops and Lean presentations to the insurance and employment issues discussed at the Burlington meeting, that have helped broaden the Alliance's appeal to a wide membership.
The primary mission of BWA is to increase its members' competitiveness by "improving their know-how, raising their powers of innovation and increasing internationalization."
"And I believe it is exactly because we offer our members what they ask for that there is a real groundswell of support," says Baker.
"Our industry has traditionally been slower to adopt the latest technology, but through our work we are helping them access funding to invest in their businesses, we share knowledge and best practices among our members and we are creating a momentum for the industry to get more attention both from government and internationally for exports, and get on the information highway. I think we are helping to ramp things up and increase the profile of the industry."

New opportunities
Baker says about 40 per cent of member companies are already exporting and 20 percent never will. But that leaves another 40 per cent that could take advantage of the export markets and that's one reason why the Alliance is forming partnerships across the industry – the latest one with B.C. Wood, which has a lot of export experience and international contacts – to open up and access potential new markets for its members.
Another is the Alliance's membership in a so-called supercluster, a group of companies that includes such heavy hitters as ArcelorMittal Dofasco (Canada's leading steel producer), Morgan Solar, University of Toronto, General Dynamics Land Systems, Ericsson, and Celestica to name just a few, who are working together to access millions of dollars in available government funding.
If the application from the supercluster is successful, the Alliance's members could be eligible for $30 million over five years at 50 per cent funding ($15 million). Baker says he expects to hear whether or not the application has been approved some time in January.
These are just some of the examples of how the Alliance is working to increase the profile of wood product manufacturers in Canada.
It's a multi-pronged approach to strengthen the industry, says Baker.
Through working together, sharing knowledge, information and expertise and helping each other towards a common goal, the Alliance provides a venue for members to develop new relationships and serves as an intermediary, working with government to articulate the cluster's objectives and create partnerships that provide funding on a project basis.
"The benefits of working as a cluster are clear," says Baker.
"We help our members be more competitive in local, national and international markets."

See a map of the Alliance's member locations below.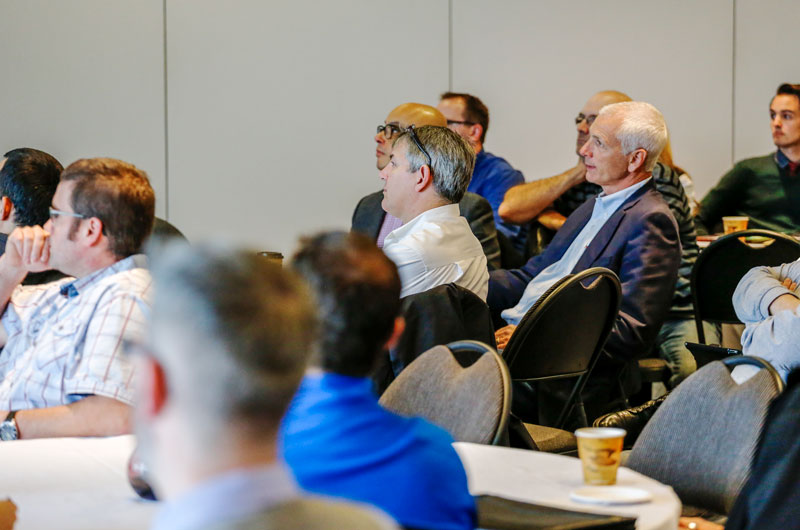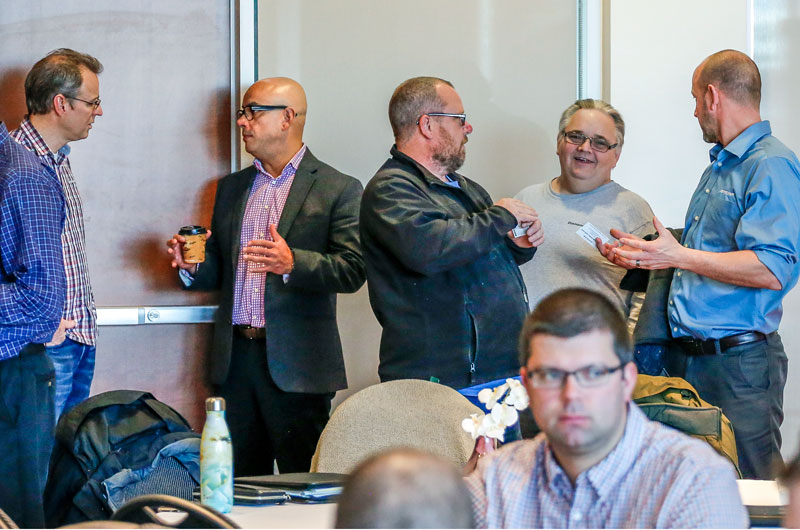 Learning and networking are keys to the BWA's success.

See the Map:

Download PDF