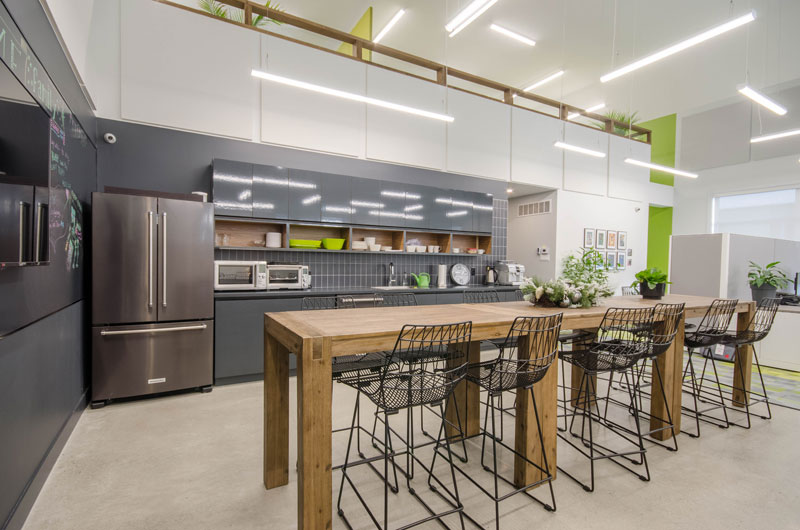 Photos: Contributed
New office offers more room for creativity, collaboration and growth.

Planit Canada Inc., a software reseller specializing in solutions for case goods manufacturers, recently completed the moved into their new head office just off the island of Montreal.
Making more room for creativity, collaboration and new hires, Planit Canada is gearing up for continued growth.
With a special emphasis on creative spaces and a collaboration-friendly layout, the company looks forward to using the new office to move into an exciting new era of creative problem solving and goal-setting.
"We wanted a space that reflected our values and our aspirations... a place for anyone in the company to feel comfortable bringing their own ideas to the table," said company president Peter Mate.
"I don't like telling people how to do their job - I hire good people and want to give them the space to share their insights and have fun doing it. It's important to me that my staff love coming into the office as much as I do," Mate said.
The focal point of the large open main room is the kitchen, which doubles as a casual meeting place. Featuring a polished concrete floor, 16' long bar-height dining table, charcoal-grey cabinets and a black writeable wall with a large-screen TV, the room is contemporary and playful.
The (30') high ceilings and large windows create a bright and airy space, finished with pale grey walls and an apple green accent wall next to the staircase. The mezzanine, home of the sales team, accommodates six workstations with acoustic privacy, with some workstations reserved for visiting outside staff.
Separated by apple green acoustic panels, the lounge houses a second, long writeable wall, hi-end bean bag-style chairs, low modular couches, and moveable laptop tables.
Visible throughout, the tech-inspired carpet tiles with their transition from all green to mostly grey geometric shapes create movement and help define distinct zones.
The entire office is equipped with hidden Wi-Fi enabled smart-speakers, as well as an intelligent personal assistant device that controls music, temperature and lighting.
Planit Canada Inc. is a software reseller based in Vaudreuil-Dorion, Quebec, with sales and technical support staff located across Canada.