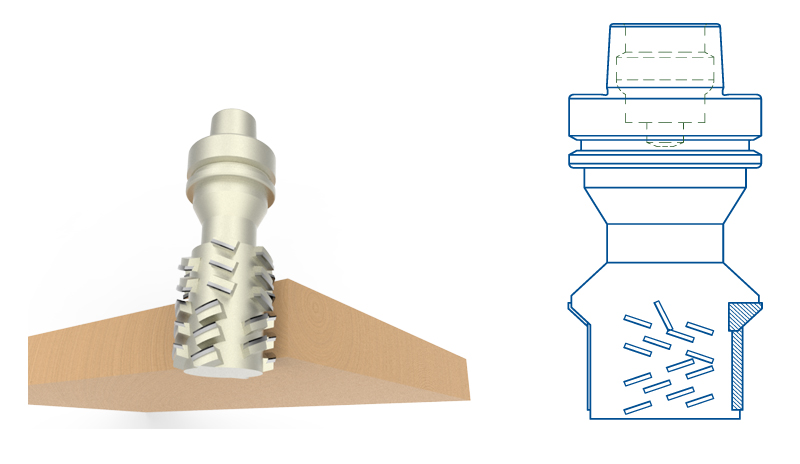 Image 1 & 2
The outside edges of wood components are extremely important in a variety of industries. Cabinet door companies need door edge accuracy and premium surface finish, as doors reflect the quality and function of all kitchens, and are always in the line of sight. Entry door companies often make door edge machining the final operation on a CNC router, which must be done properly, or risk having to remake the entire door. Furniture makers, create table tops, which are always visible and within reach of the customers. Case good manufacturers are constantly seeking better ways to improve edge quality on exposed edges of cabinetry.
Premium edge quality of wood components has always been important and difficult to achieve, given the number of variables in machine, material, and tooling options. New tooling innovations with 'high shear' tool geometry have changed the game, and made edge machining much easier for a variety of reasons.
Image 1
– shows a high shear diamond tool in an edge machining operation on an entry door.
Benefits:
• Elimination of cross grain tearing, even on difficult wood species
• Dramatic reduction in cycle time, as high shear tooling can achieve higher feed rates without sacrificing cut quality
• Premium surface finish, resulting in minimal sanding requirements
• Dramatically extended tool life
High shear 
cutting edges:
AWFS Fair in Las Vegas demonstrated how many tooling manufactures have made investments to produce high shear diamond tools in a variety of formats on CNC routers, tennoners and edgebanders. Many resources allocated to high shear tooling development, are directly intended to improve edge finish of components, and optimize tool performance at high feed rates. Numerous tooling companies have designed high shear tooling in a variety 
of different angles, but the purpose of the high shear features remain the same.
New Development:
Original high shear tool design was focussed solely on straight cutting edges, to machine square component edges without any profile as seen in
Image 1
. However, various tooling companies in North America have made it possible to machine the flat portion of component edge and profile in one tool path.
Image 2
– shows a high shear diamond tool for a cabinet door edge with a bevel incorporated into the tool design to allow straight machining and profiling to be done in one operation.
This is a critical new development as cycle times and required tool changes can be dramatically reduced in many edge machining applications.
Recommendations to optimize high shear tooling products:
Use precision tool 
holding systems
High shear tooling solutions will undoubtedly optimize machine performance, and improve surface finish, if parts are held properly on machining centers. Tool holding systems are a critical factor in tool and machine performance as they provide a link between quality tooling and quality machinery. Some high shear tooling options can be made in one piece with integrated HSK, but a hydraulic or shrink fit tool holder should be used as a minimum requirement.
Ensure maximum part 
holding pressure
High shear tooling designs have proven to reduce cycle time dramatically through feed rate increases. However, cycle time reductions can only be realized if parts are securely held during high feed rate machining. High shear tooling solutions do add upward and downward forces to the work piece, so proper hold down is extremely important.
Consider detailed tool design
High shear tool designs can be costly to manufacture due to the amount of diamond raw material required, so careful consultation with your tool manufacturer can uncover some ways to combine tool designs and add more value to the product. A straight, high shear tool in combination with a simple top profile is a good idea if profiling is required. Rebating options should also be considered if the bottom tool will ever be needed for rebating at specific depths.
Consider long term 
tooling service
High shear diamond tools are extremely technical to manufacture, and require specific machinery and software packages to produce properly, but the sharpening of these tools is equally as important. High shear tools will outlast traditional diamond tool designs by 3 to 4 times, so sharpening requirements will not be as frequent. However, it is important to ensure that tooling is serviced 
on proper machinery to ensure 
optimal long term performance.
High shear tooling solutions have already made a dramatic impact on wood machining practices, and allowed machinery to perform with great efficiency and effective cutting results. The demand for better quality edge machining requirements will surely continue to grow and the tooling technology to meet those demands will continue to evolve.