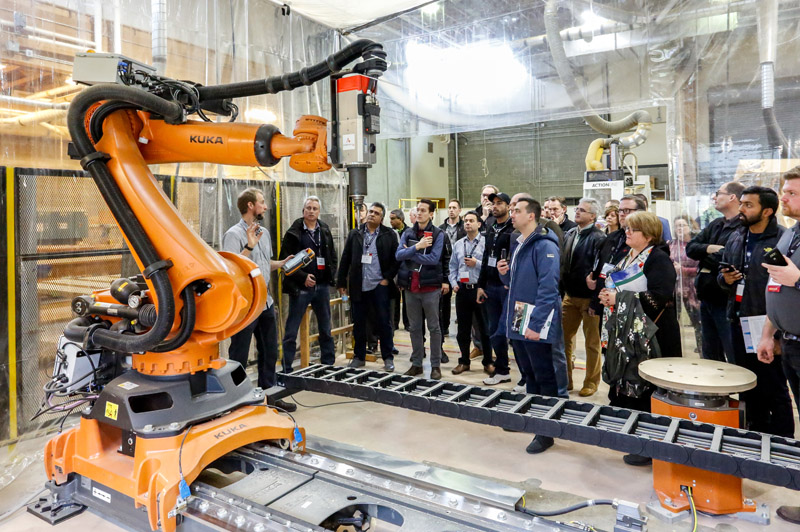 Photos: Woodworking
Some 80 participants from across Canada attended CKCA's 50th Anniversary ick-Off Event in Richmond, B.C.
The Canadian Kitchen Cabinet Association just wrapped up its very successful 50th Anniversary Kick-Off event in Richmond, B.C. Feb. 5-6.
The first regional event of CKCA's 50th anniversary year was attended by some 80 participants from across the country.
Held at the Sheraton Vancouver Airport, the event featured plant tours at Sunrise Kitchens Ltd. and Pacific Rim Cabinets, two successful multi-generational family businesses, as well as a tour of the Centre of Advanced Wood Processing (CAWP) at the University of British Columbia.
Both company tours featured companies, which have, or are transitioning from one generation to the next, which dovetailed nicely with the topic of the presentations following Monday night's dinner celebrating 50 years of innovation.
That event featured guest speakers Will Holsappel of Windmill Cabinet Shop, of Bill Dewinetz of Pacific Rim Cabinets, talked about about their businesses, the ingredients for success and longevity, how to keep the business thriving and not coincidentally, succession planning.
That topic - among many others - was also on people's minds at the Manufacturers Round Table discussion, which wrapped up the event on Tuesday afternoon.
In addition, participants heard from CKCA President Caroline Castrucci of Laurysen Kitchens; presentations from Sepp Gmeiner of Lignum Consulting on CKCA Certification and Industry 4.0; Paul Akers of FastCap who presented "Lean is Simple;" CAWP's Jason Chiu talked about CAWP and their machine labs, which utilize robotic technology for wood product fabrication; and Bruce Johnstone, owner and Jeff Minnion of Alpine Appliance Installations Ltd. spoke about Kitchen Appliance Considerations – What Cabinetmakers Need to Know.