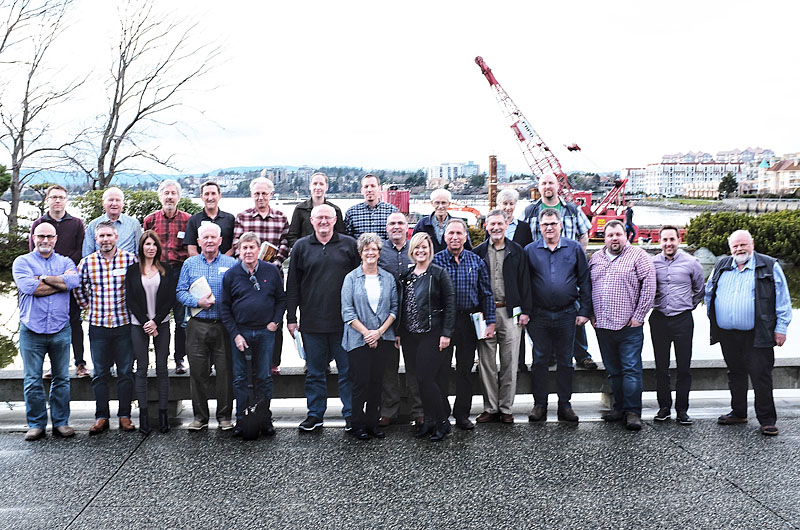 Photo: Contributed
GIS Committee, administrators and inspectors.
AWMAC's GIS Committee, inspectors, administrators and representatives from the Woodwork Institute, got together for a two-day joint meeting in Victoria B.C. in January.
Participants got together for an open and passionate discussion about inspection/reports consistency, challenges, communication with manufacturers and many other issues.
A few of these issues were resolved during the meeting.
The most notable resolution is that quality architectural woodwork follows quality submissions (shop drawings, listings etc.). It was determined that moving forward, the inspectors will review and report on submissions per AWMAC's Standards.
The GIS Committee met for a third day following the meetings.
The preceding days' information was reviewed and it was decided to debate and resolve these matters at the Committee's scheduled meetings. The Committee's draft one and five-year plans and 2019 budget were also developed.
Jim Taylor, past GIS chair, said he was impressed by the 30 attendees' respect, fairness, commitment, attentiveness and first-rate understanding of the industry. "The GIS is in good hands."
In addition to the business at hand, the GIS Committee also elected Nick Anastas (Ontario) as chair, JR Perry (Atlantic) as vice chair and Moira Rowan (B.C.) as secretary manager.
The GIS Committee acknowledged and expressed its appreciation to outgoing chair Jim Taylor, whose work with the GIS program has contributed to its growth "by leaps and bounds."
The GIS program has been adopted by all chapters and is recognized and specified by the architectural/design community across the country. The MSQ certification initiative has become a requisite for membership in almost all chapters as of this date; and will be in place within the year in all remaining chapters. Implementation of the AWMAC Expert Opinion Policy has made their inspectors the de-facto experts and sole qualified judges of millwork using the AWS and NAAWS standards.